Empowering Retailers with Anonymization Tools to Unlock Business Insights and Data-Driven Outcomes from Video and Image Data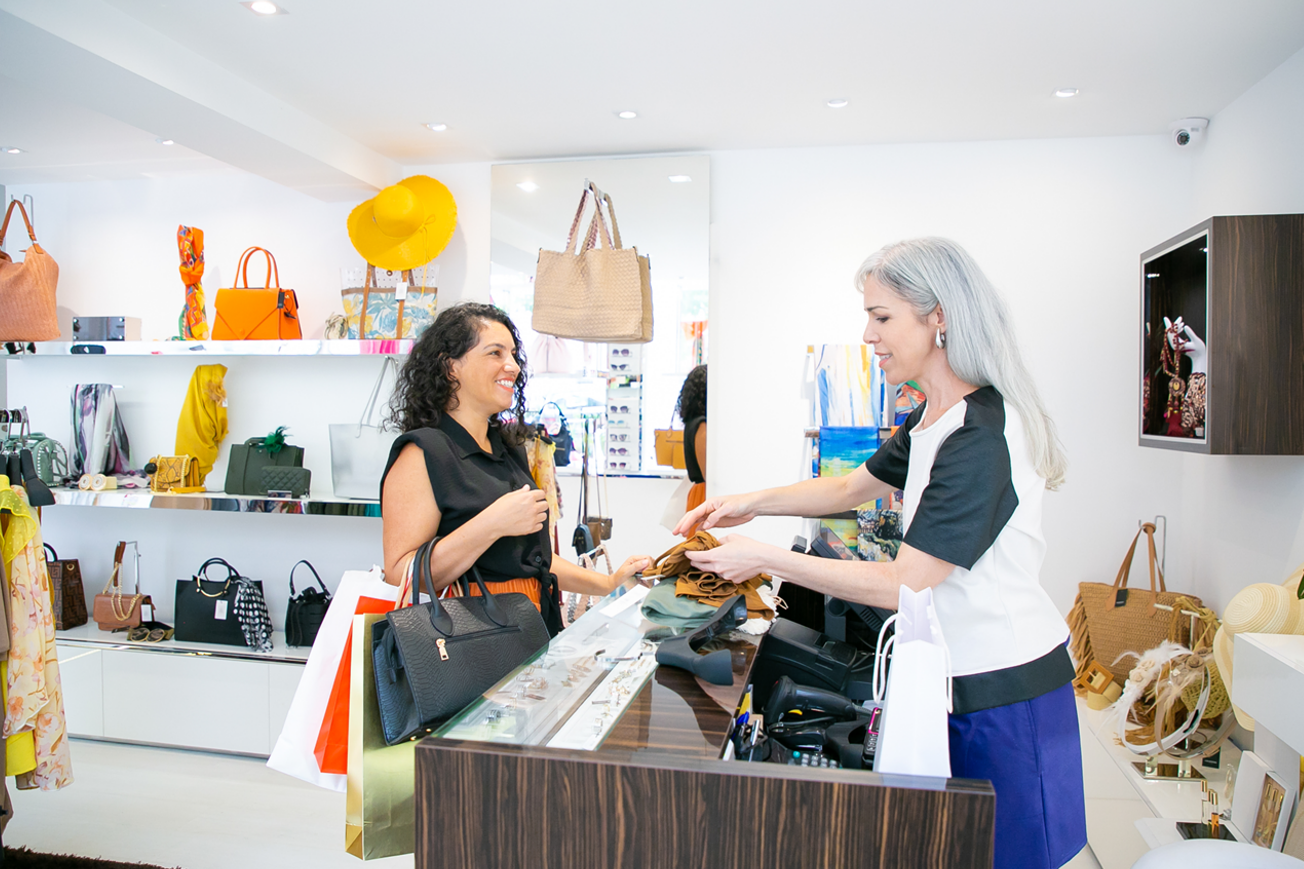 brighter AI's Image and Video Anonymization software, optimized with Intel® technologies, enables system integrators and retailers to deliver improved customer experiences, drive sales, and meet crucial privacy standards by automatically redacting key identifiers from image and video.
Maximizing Video Data Insights while Maintaining Privacy Standards
In the modern digital world, it has become easier than ever to collect information on consumer shopping habits, preferences, and behaviors. Data is at the core of making smarter business decisions, improving customer experiences, increasing revenue, and staying ahead of competitors.
As ecommerce has grown rapidly in recent years, businesses have gained increased insights into shopper preferences and customer demographics. However, brick-and-mortar locations have struggled to capture the same level of insight in-store. While online retailers have advanced data analytics from online traffic and purchases, traditional retailers have not had access to data about their customer base and store operations. Lack of insight into processes and customer preferences can cause retailers to experience inefficient staffing, inventory issues, poor product placement, long lines, and increased costs. All of this results in less than optimal customer experiences which can cost retailers shoppers and money. In-person customers are disappointed with their lack of personalized experiences. 51% of customers say that brands aren't personalizing their experiences enough because data is inaccurate or not up-to-date¹.
Ultimately, not investing in personalized experiences leaves revenue on the table. 82% of customers say most brands have significant room for improvement in delivering a consistently exceptional experience1. Now more than ever, brick-and-mortar retailers need ways to compete, and intelligent video analytics enables them to do that.
Data is collected in-store through a variety of technology and endpoints, but few are as impactful as video. Video analytics fuel new digital solutions and video data are required to enable and train the machine learning algorithms at the heart of computer vision and AI technologies. According to the 29th Annual Retail Technology Study by RIS, only 3% of retailers have implemented computer vision technology, yet 40% are planning to deploy it within the next two years2.
Video-powered retail technology is quickly gaining traction as retailers start to understand how video data can transform the physical retail experience. At the same time, as video monitoring becomes more ubiquitous with an estimated 1 billion surveillance cameras installed worldwide as of 20213, shoppers are understandably becoming increasingly concerned about their privacy as video footage often captures personal identifiers that can put consumers' privacy at risk. As a result, data protection regulations, such as CCPA in California, APPI in Japan, and GDPR in the EU are becoming tougher and more restrictive to protect individual privacy and personal data.
The cost of breaching privacy regulations:
43% of UK retailers surveyed were hit with fines for video privacy breaches4
Meta was fined $1.3 billion in 2023 for allegedly breaching GDPR regulations and it's handling of European citizen personal data5
Amazon was fined $887 million in 2021 over alleged EU privacy violations6
That leaves retailers and system integrators a few choices when designing systems for image and video data: not use the data, use the data without being compliant and be fined, use an alternative, or anonymize their data. Not using video-powered data leaves critical business insights, and their resulting impact on business outcomes, out on the table. Most retailers already have video systems in their infrastructure, and being unable to leverage this data inhibits sales opportunities while wasting business potential. To make the most of their investments, retailers need a way to comply with privacy regulations and appease regulators who are ready to clamp down on any retailer that violates local rules.
Current Alternatives to Anonymization Are Limited
To avoid this privacy concern, many businesses have turned to other traditional data collection methods such as sensors designed for heat mapping or people counting. These solutions can provide a limited insight into very specific information, but without video and image information retailers aren't capturing or making the most of all the useable data at their disposal. For example, a non-video sensor might capture the number of people that are walking in the store, but without additional technology retailers don't know what they're buying, what their preferences are, or where they're getting held up in waits and queues. It's difficult to identify key customer characteristics for compiling demographic information and better understanding consumer segments to improve product placement, marketing tactics, or improve customer in-store experiences.
Another area retailers and service providers have been struggling with is developing intelligent systems for detecting shopping behavior anomalies and identifying potential theft risks. This is especially critical for stores utilizing self-checkout kiosks which have higher risks of items failing to scan, tag switching, misidentifying items, and deliberate underpaying. Stores need to be able to analyze video data to develop an accurate system for these use cases, that simultaneously maintains privacy compliance so they aren't fined for pursuing theft. These challenges represent real costs for retailers with retail losses in 2021 amounting to $94.5 billion, up from $90.8 billion in 20207.
But, what can retailers do? Using video data involves making sure that all faces and any other recognizable data are rendered completely anonymous. The trouble is, traditional techniques such as pixelation and black bars are unable to preserve the accuracy and integrity of the original data, rendering it ineffective for machine learning.
brighter AI's Image and Video Anonymization Platform
brighter AI offers two main anonymization capabilities through their software: Precision Blur and Deep Natural Anonymization. Precision blurring automatically detects and blurs selected objects such as faces, license plates, and characters in video and images. This highly scalable service is beneficial for big data collection where more detailed information is not relevant, or the individual data is not a subject of interest. However, for retailers looking to maintain the integrity of the original video image, brighter AI's Deep Natural Anonymization (DNAT) resolves the trade-off between innovation and privacy. DNAT uses generative AI to create synthetic faces and prevent the original subjects from being recognized. At the same time, it preserves the quality and integrity of the original data. In doing so, it is the only anonymization technique capable of powering analytics and machine learning. With DNAT retailers can retain information like line of sight, gender, emotions, and approximate age.
By preserving the integrity of the data, DNAT empowers retailers to implement computer vision for a variety of innovative use cases:
Safety and security: enabling retailers to automatically identify suspicious patterns of behavior, reduce theft and loss, and alert security staff
Self-checkout: empowering frictionless checkout by automatically recognizing products for a faster, easier, and better customer experience
Inventory management: helping retailers identify when items need to be restocked on shelves, incorrect product placements, or damaged packaging
Store layout optimization: providing insights on customer movements throughout the store and purchase patterns to optimize product placement, distribute staff, and build the optimal store layout
Virtual mirrors and recommendation engines: personalizing customer experiences with cutting-edge fitting room technology that helps recommend matching items or styles based on customer choices
Computer vision and AI are good for business. They help retailers understand their consumer preferences, tailor experiences, optimize processes, build greater brand loyalty, and ultimately help improve their bottom line.
Deep Natural Anonymization – How it works
The software works by first detecting faces in the original image from a video feed. Objects and faces are recognized by artificial neural networks trained on large data sets including various resolutions and perspectives. For each face, an artificial overlay is generated. These non-reversible synthetic overlays replace the original face to:
Protect identities
Provide a natural appearance
Enable analytics and machine learning
After the overlay has been applied, re-identification by facial recognition technology is not possible. The synthetic faces are randomly generated and non-reversible. However, DNAT ensures anonymized data remains representative of the original by preserving age, gender, and ethnicity of detected faces. Facial expression, gaze, movements and even eyelid position are retained for analysis or AI development. This enables retailers to create customer profiles and develop deeper insights on consumer behavior.
This software has improved accuracy and robustness compared to 'classic' rule-based algorithms.
brighter AI's deep learning approach works 'out of the box' on new video footage, few if any adjustments to models are required
The software works for people in motion, as well as if they are wearing medical masks or have partially obstructed faces
DNAT preserves the original data quality and accuracy, meaning running inference or analytics on this anonymized data will come to the same conclusion as if it were operating on the raw data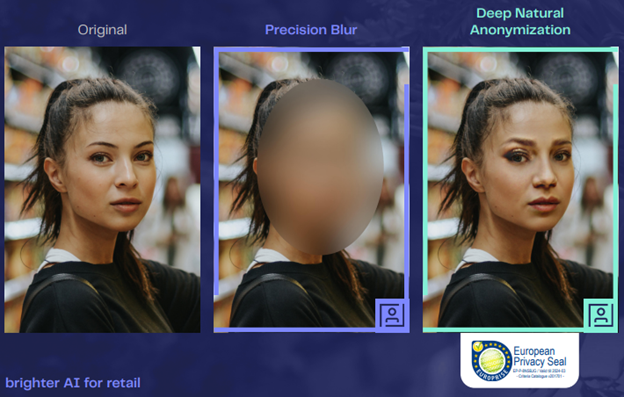 A Privacy First Software
Robust international data protection laws place retailers under a legal obligation to protect the personal information of their shoppers. That's why, since the very beginning brighter AI has been focused on maintaining privacy standards, and their deep natural anonymization is currently the only GDPR certified product when it comes to value preserving anonymization technologies. They also are compliant with CCPA, PIPL, and APPI standards.
brighter AI's image and video anonymization software has been certified by Europrise European Privacy Seal8. The European Privacy Seal is a certification mechanism that evaluates and certifies the compliance of products and services with the European data protection laws, such as the General Data Protection Regulation (GDPR). The European Privacy Seal certification criteria was approved by the competent supervisory authority pursuant to Article 42 GDPR, which means it can be recognized in all EU countries.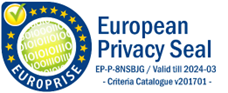 Key Features
Custom redact settings
Redaction areas
Fully dockerized
REST API integration
GDPR, CCPA, PIPL, and APPI compliance
Semantic segmentation preservation
Camera agnostic, working out of the box
Seamless integration (cloud to edge)
Scalable, robust container-based software
Supports all standard formats and codecs
Deployment
When it comes to deployment, system integrators and retailers can seamlessly integrate brighter AI software according to their needs. Brighter AI offers on-prem, cloud, and on edge deployments.
On-prem deployments are for full controllability and compliance to the strictest data security guidelines. With on-prem deployment, data does not leave a customer's own data center, and there's a Docker container for easy setup.
Cloud deployments are primarily on European servers for full flexibility and reduced costs. Deploying on cloud is easy via API or usage of web-based UI. There's no associated hardware, server or maintenance costs.
Edge deployments meet the highest data privacy and IT security standards with the ability to anonymize directly where video capture occurs. This is a cost-efficient use of existing camera infrastructures.
Once data has been anonymized, retailers can leverage it for computer vision and AI analytics to provide actional insights and make data-driven decisions.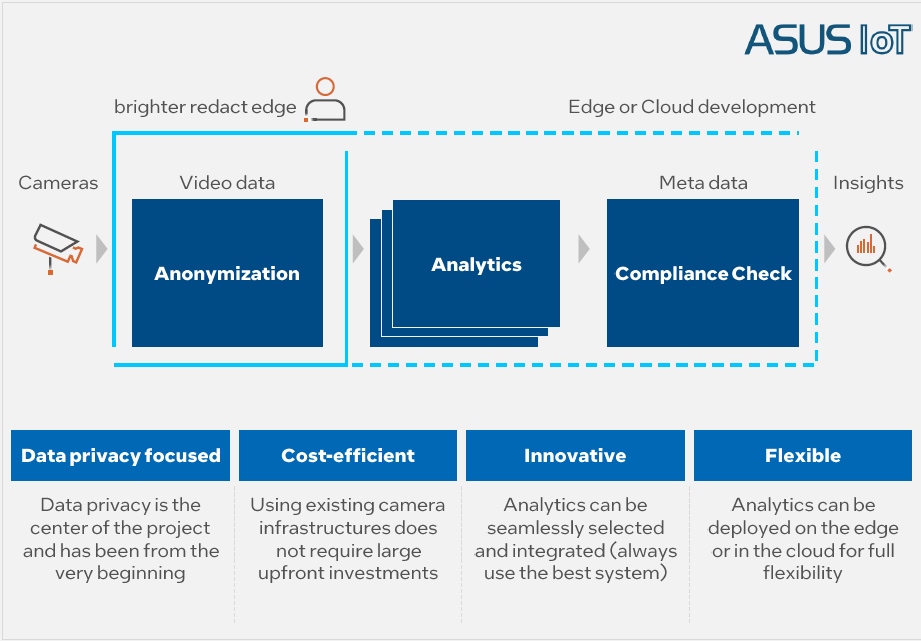 Key Benefits
Benefits For System Integrators

Benefits For Retailers

Empower customers

Enable customers to use their video data and maximize their investments. This helps integrators strengthen partnerships with their customers, by delivering exceptional value and unlocking opportunities for customers to increase revenue, enhance brand loyalty, and improve their customer experiences.

Increase revenue

Drive sales with more accurately targeted marketing efforts and product placement. Use video data to better understand customer demographics and segments to optimize store layout and inventory processes.

Deploy quickly

Leverage retailers' existing equipment and systems or easily integrate with new ones using flexible APIs. The simple deployment also means that integrators can increase their own profitability by helping a greater number of organizations, or more stores from the same retailer modernize their video analysis practice.

Build brand loyalty and customer trust

Assure customers of their privacy as they are anonymized and they cannot be identified. Utilize insights from data to drive personalized and exceptional experiences that keep customers coming back, again and again.

Scale easily

The software is camera agnostic and works from cloud to edge so integrators can support their customers how and where they need. Integrators can help guide their customers as they expand their current market or help them explore new horizons while ensuring a powerful AI platform is at their side.

Improve customer experiences

Leverage DNAT to unlock customer behavioral data to enhance decision making with premium business intelligence. Reduce long wait times, optimize store layouts, and ensure product availability to enhance every shoppers experience.

Customize Capabilities

DNAT technology is built to support computer vision and other solutions to cover a wide array of potential use cases and integrate with other powerful analytics tools. Providing access to video data offers immediate benefits to understanding customer behavior patterns but also serves as the catalyst for further business improvements and differentiating the customer experience.
Intel Partners with brighter AI to Improve Performance
Anonymization solutions are critical to make the most out of data, but they need to be more efficient in order to both ensure data protection requirements are met and handle mass amounts of data in a short amount of time. By partnering with Intel engineers and leveraging Intel®'s C++ Compiler and Math Kernel Library, brighter AI was able to identify and resolve performance bottlenecks.
Intel® technologies were primarily used by brighter AI to improve the anonymization software's performance. Intel® technologies helped achieve speedups on both of brighter AI's key products, Deep Natural Anonymization (DNAT) and Precision Blur. This consisted of an improvement in processor time reduction after compiling parts with Intel C++ Compiler and Intel Math Kernel Library.
On top of these performance improvements, brighter AI has optimized their software for use on Intel® Xeon® processors, which enable faster processing for mission critical workloads. The performance and compute power enabled by these processors help enable near real-time detection, crucial for certain AI-powered use cases such as theft detection which require alerts to be sent as the theft is in progress.
Through Intel's technical support and partnership and by leveraging various Intel® technologies, brighter AI was able to improve performance, resolve bottlenecks, and optimize their software for near-real time uses cases.
Intel Components
Intel®'s C++ Compiler: Intel® C++ Compiler, known as icc, is the high performance compiler which can be used to build and optimize users C/C++ projects. The icc is distributed as part of Intel® System Studio product.
Intel® oneAPI Math Kernel Library: The Intel® oneAPI Math Kernel Library (oneMKL) helps users achieve maximum performance with a math computing library of highly optimized, extensively parallelized routines for CPU and GPU. The library has C and Fortran interfaces for most routines on CPU, and DPC++ interfaces for some routines on both CPU and GPU.
Intel® Xeon® Processors: These processors are built specifically for the flexibility to run complex AI workloads on the same hardware as existing workloads. With AI acceleration and optimization that goes silicon deep and ecosystem wide, Intel® Xeon® Scalable processors take embedded AI performance to the next level. brighter AI uses these AI-accelerated processors to run powerful analytics and achieve better performance and reduced inferencing time when combined with the assistance of Intel®'s C++ Compiler and Math Kernel Library.
brighter AI Case Study
Next to Smart City and Transportation, ASUS IoT has identified Retail as one sector where edge computing and computer vision will boost innovation and unlock new business potential in the coming years. Technologies like real-time data analysis, object recognition, and robotics will increase the efficiency of supply chain management as well as enhance in-store customer experiences. Use cases range from people counting and customer behavioral analytics to anti-theft applications.
ASUS IoT and brighter AI have decided to partner together and combine their expertise to meet privacy requirements and bring these innovations to market. The combination of the ASUS IoT edge computing portfolio and brighter AI's GDPR certified Deep Natural Anonymization enables retailers and system integrators to make the most of their video systems, run inferences fully compliant on anonymized images on the edge, and even extract anonymized training data from the site itself.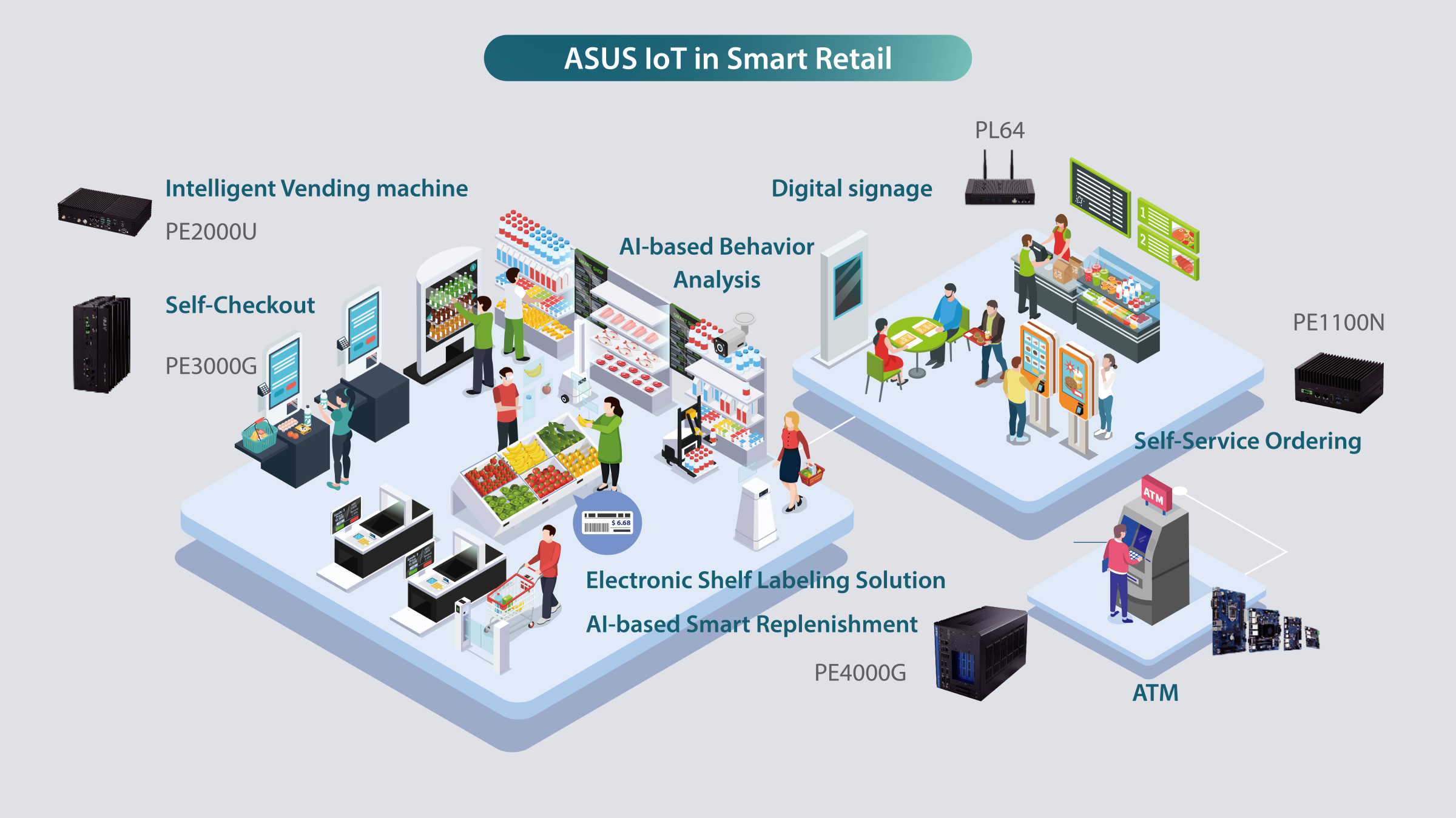 In summary
Make the most of retail video data while maintaining legal compliance. brighter AI's anonymization allows retailers to collect useful information about the behavior of consumers, while still protecting their privacy. Expand retail opportunities for insights from video data by reaching out to brighter AI at sales@brighter.ai
About brighter AI
brighter AI provides image & video anonymization software based on state-of-the-art deep learning technology.
They enable companies in various industries to use publicly-recorded camera data for analytics and AI. In addition to the DNAT anonymization service for retail, brighter AI also offers DNAT capabilities and precision blurring for use cases such as the automotive industry. With custom redact settings and compatibility with machine learning brighter AI's anonymization software is impactful across a variety of use cases to help keep organizations compliant with today's rigorous privacy standards.
With their software, companies can mitigate their liability and the risks of being fined, increase the capacity of their teams, improve their time to market, and push innovation.
Learn More
Partnership With Intel® - brighter AI | Blog Post
The Anonymization Solution for Retailers - brighter AI | Blog Post
brighter AI - The World's #1 Image and Video Anonymization | Website
Intel® Xeon® Scalable Processors Product Page
Intel® oneAPI DPC++/C++ Compiler Product Page
Intel® oneAPI Math Kernel Library Product Page
Sources:
1 ) Revisiting the Gaps in Customer Experience, Redpoint Global, 2021
2) 29th Annual Retail Technology Study: Retail Accelerates, Retail Info Systems, 2019
3) One billion surveillance cameras will be watching globally in 2021, CNBC, 2019
4) 43% of UK retailers surveyed hit with fines for video privacy breaches, The Retail Bulletin, 2022
5) Top EU regulator defends mega $1.3 billion privacy fine on Meta: 'I have to enforce the law', CNBC, 2023
6) Amazon fined record $887 million over EU privacy violations, The Verge, 2021
7) NR Reports Retail Shrink Nearly a $100B Problem, National Retail Federation, September 2022
8) European Privacy Seal for DNAT, EuroPriSe, 2022
Notices & Disclaimers
Intel is committed to respecting human rights and avoiding complicity in human rights abuses.
See Intel's Global Human Rights Principles. Intel® products and software are intended only to be used in applications that do not cause or contribute to a violation of an internationally recognized human right.
Intel technologies may require enabled hardware, software or service activation. No product or component can be absolutely secure. Your costs and results may vary. Intel does not control or audit third-party data. You should consult other sources to evaluate accuracy. Code names are used by Intel to identify products, technologies, or services that are in development and not publicly available. These are not "commercial" names and not intended to function as trademarks.
Performance varies by use, configuration and other factors. Learn more at: www.Intel.com/PerformanceIndex.
You may not use or facilitate the use of this document in connection with any infringement or other legal analysis concerning Intel products described herein. You agree to grant Intel a non-exclusive, royalty-free license to any patent claim thereafter drafted which includes subject matter disclosed herein.
© Intel Corporation. Intel, the Intel logo, and other Intel marks are trademarks of Intel Corporation or its subsidiaries. Other names and brands may be claimed as the property of others.