ASUS IoT PE200U intelligent edge computer facilitates smart hospital-kiosk service
2022/04
Industry | Healthcare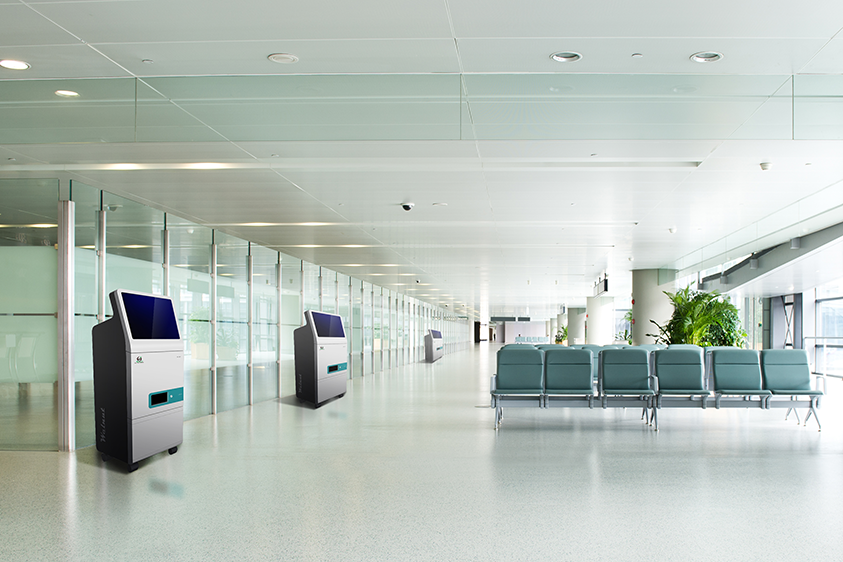 Our customer
Our customer is a professional team in China with a healthcare and IoT background, providing medical equipment and big-data analysis. The essence of its work is to build a high-speed channel for medical and health data to open up every key data link – including as medical data generation, confirmation, quality control, distribution, filing management, industrial applications and more. It also seeks to eliminate interaction barriers between patient medical data and practical applications. Our customer believes that circulating medical data generates real value.
Aiming to optimize hospital workflow, increase research capability and form considerable scale of patient database, our customer is looking to establish a new healthcare ecosystem for the IoT era.
The problem
Poor computing capability failed customer needs
According to ResearchAndMarkets, the kiosk market in China was valued at USD $8.74 billion in 2019, and is expected to reach USD $14.71 billion by 2025. Such booming demand is due to wider acceptance of both the convenience and value of kiosk services. This in turn is driven by numerous factors. First, many operators simply prefer kiosks to traditional stores because of their low initial investment and overhead costs. As well, the technological ability of kiosks is expanding, empowering diverse applications – from retail to healthcare and beyond.
In China, a patient's medical records, examination reports and images can be obtained from hospitals. In order to automate the process and maximize efficiency , our customer designed a self-service kiosk to allow patients to purchase an optical disc containing their data. However, the current embedded computer's performance, high cost and late delivery schedule failed to meet the needs of hospitals.
The solution
Industrial-grade performance for efficient medical-data management and analysis
ASUS IoT PE200U is an intelligent edge computer that represents a high-quality, TCO-optimized solution for medical applications. Specifically, PE200U's high performance and silent operation makes it ideal for an environment like a hospital. It's capable of achieving full CPU utilization while being cooled by a fanless thermal solution. Diverse I/O interface, up to 6 COM ports(2 x RS-232/422/485) and dual display configuration by multiple interface including HDMI/DP and integrated CPU enable system expansion options, as and when kiosk service demand dictates. It also supports Windows 10, and has a dual-storage design that enables smooth operating systems, diverse application programs and patient data processing.
Moreover, with a wide range of 12-24V power inputs, and -20°-60° operating temperatures, PE200U offers enhanced features to ensure optimal performance and the flexibility to adapt to healthcare environments. Superb 24/7 stability and reliability, combined with ASUS IoT's world-class after-sales service and guaranteed long-term availability, mean PE200U is ideal for hospital kiosks – where around-the-clock operation is needed.
All this has empowered the customer with easier access to and improved handling of medical data, such as examination reports and the information exports. It has also enabled the advanced collection of patient data, in turn aiding big-data analysis to shape future medical diagnosis and care provision.
The outcome
Hundreds of medical-data self-service kiosks successfully deployed for optimized hospital experience
The upshot is that, with PE200U's superb computing performance and stable product quality, Chinese hospitals adopting our customer's kiosk solution are able to provide their patients with a quick and efficient self-service system for purchasing personal data. At the same time, the system has lowered both equipment and maintenance costs for our customer.
ASUS provided our customer with extensive pre-installation testing, along with a qualified vendor list (QVL) for compatible RAM – ensuring smooth system integration. Moreover, we support our customer with national maintenance and service system to fulfill customer's high-demanding RMA requirement anytime anywhere. Finally, as a global technology powerhouse, ASUS always ensure our customer to have the components needed timely for successful deployment.