ASUS IoT PE400D Computer Hones the Edge for 5G Smart Poles in Taipei City
2022/07
Industry | Transportation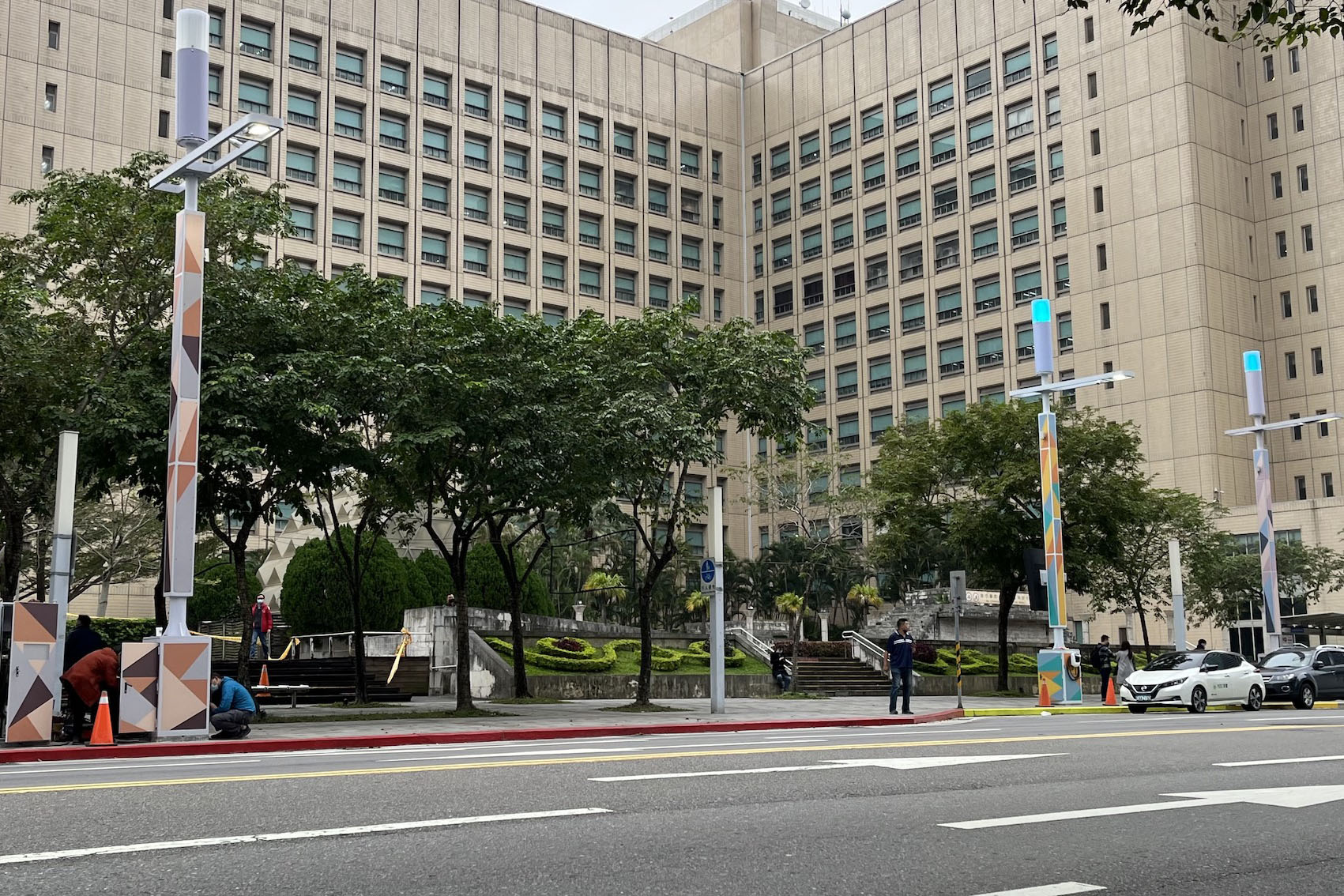 Our Partner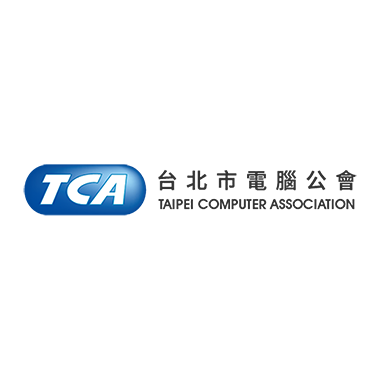 According to data from Navigant Research, there are around 360 million streetlights worldwide, but only 7.2 million or 2% of them have been upgraded to smart poles so far. Over 90 million smart poles, valued at over US$7 billion, are expected to be installed by 2028.
In March of 2021, Taipei Computer Association (TCA) invited forty-six of Taiwan's renowned manufacturers and telecom operators to found the 5G Smart Pole Standard Promotion Alliance, including ASUSTek Computer, Pegatron Corporation, Foxconn Technology, Chunghwa Telecom, Compal Electronics, Delta Electronics, Far EasTone Telecom and others. The alliance aims to develop the leading technology standard for 5G smart poles and create new business opportunities in markets around the world.
The 5G smart pole developed by the alliance has four main functions:smart street lighting; 5G communication; AIoT applications including smart transportation, surveillance and environmental monitoring; and electric vehicle charging that includes Vehicle-to-Everything (V2X) applications.
The problem
Exposure to the elements, costly data transfers and unreliable network connections
With the emergence of IoT technologies and devices linked via 5G communication, smart transportation tech is being implemented today in cities around the world to advance the development of intelligent cities. However, such an evolution requires enormous data collection and analysis to achieve. Traditional collection methods rely on people to make the correct calculations, but costs and human error may be high. Now, the Taipei city government looks to 5G smart pole installation as a more automated alternative to capture precise traffic information that includes human and vehicular flow, object detection, accident reports, speed limit adherence, trip times and queueing. With more precise data, the government can perfect its analyses, optimizations and modeling, and it can introduce strategic public policy as well as improved government management of traffic.
Acquiring precise big data takes a stable and reliable edge AI computer to cope with different environmental situations such as temperature changes, unstable voltage, electromagnetic interference and unexpected downtime. And as large data sets are being generated and processed, there is also a risk of high data transmission cost, transmission delays and poor connections between the cloud and networked devices in the field.
The solution
A rugged, adaptable and expandable 5G smart pole computer
The ASUS IoT PE400D is the ideal "brain" for 5G smart poles. Featuring 10th Gen Intel® CoreTM and Xeon® processors, the PE400D provides powerful computing performance. Multiple industrial-grade inputs and outputs, including COM ports, DIO, USB and DisplayPort, enable efficient data collection from end devices like sensors and cameras. Also, three PCIe® slots are suitable for GPU and AI expansion to realize smart transportation applications such as real-time video analysis, object recognition and categorization. The PE400D also supports various data storage interfaces, including CFast, SATA, M.2 and mSATA, plus data protection in the form of RAID 0, 1 and 10 to provide a data pool on location to store all structured and unstructured data for searching and archiving.
The PE400D is engineered for power inputs ranging from 9-36 volts and can handle ambient temperatures ranging from -20° to 60° C, plus IEC 61000-6-2/4 certification to ensure smooth operation in harsh environments. Moreover, the PE400D also passes Nvidia Tesla T4 testing (NVQual) to protect against thermal issues and to keep data moving and connectivity flexible for advanced AI analytics in traffic.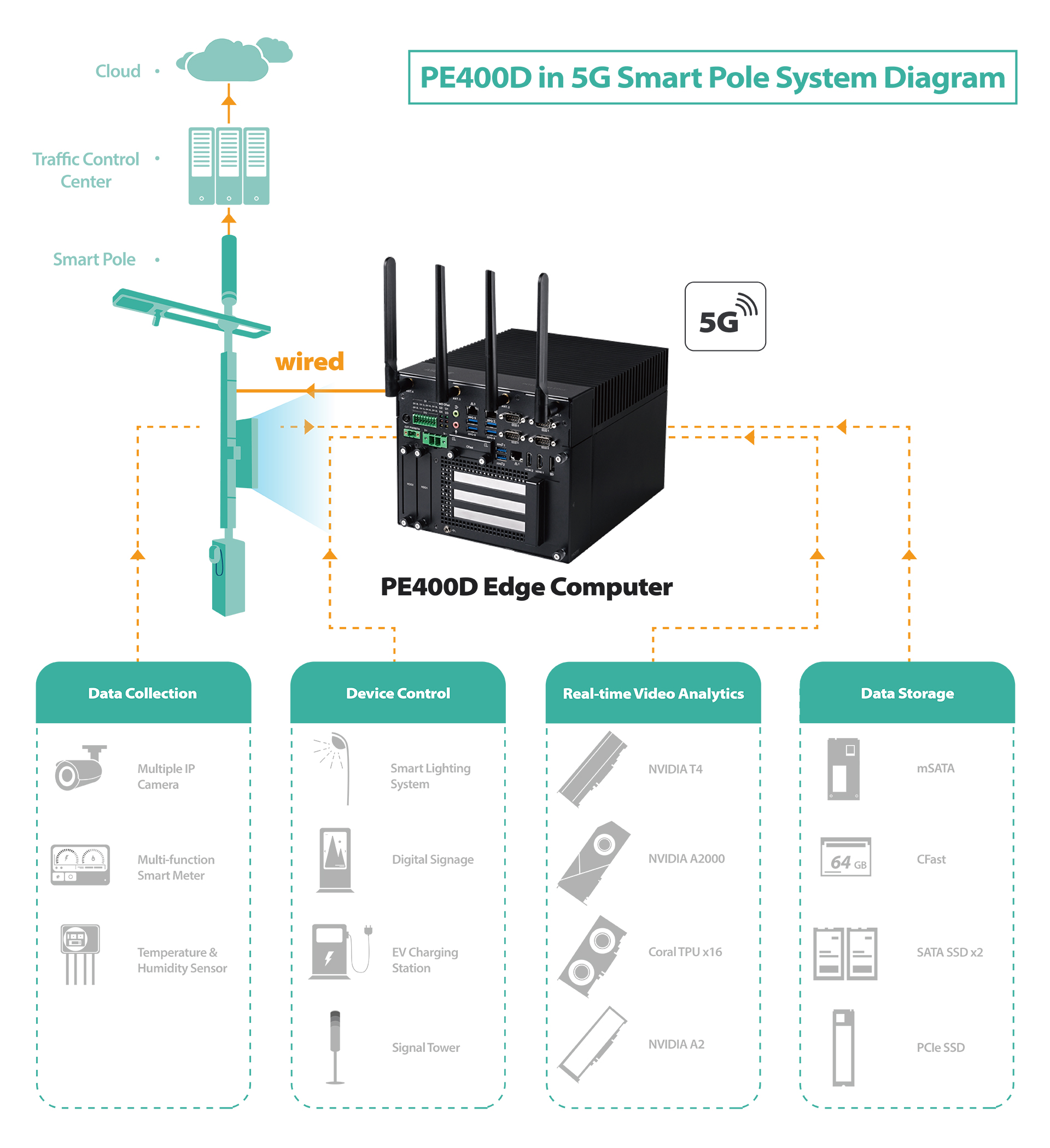 The outcome
A reliable and unified 5G system boosts smart transportation and quality of life
Embedded with the PE400D, 5G smart poles deliver real-time video analytics, data collection, device control and data storage functions ― thanks to superior edge computing performance, reduced latency and adaptability to changes in urban environments.
Also, integration of the PE400D and the ASUS IoT Cloud Console (AICC) creates a unified platform that can manage and analyze large data sets collected by IoT devices to achieve connectivity redundancy and predictive maintenance for reliable operation of 5G smart poles. Connectivity redundancy means auto-adjusting among Ethernet, Wi-Fi and cellular connections based on a given location's capabilities; and predictive maintenance can deliver advanced alerts to help maintain remote system control and avoid equipment failure. Moreover, the AICC's device management function empowers administrators to efficiently handle on-site installations involving massive edge computers and IoT devices.
5G smart poles drive smart transportation, improve public safety, enhance effective information delivery and optimize urban services and quality of life. The implementation of 5G smart poles is an essential component of the infrastructure of a smart Taipei. Together with the 5G Smart Pole Standard Promotion Alliance, ASUS IoT will continue to jointly roll out total smart-city solutions in Taiwan and beyond.