ASUS IOT LAUNCHES SMART FUTURE CREATORS CAMPAIGN AHEAD OF EMBEDDED WORLD
2022/06/16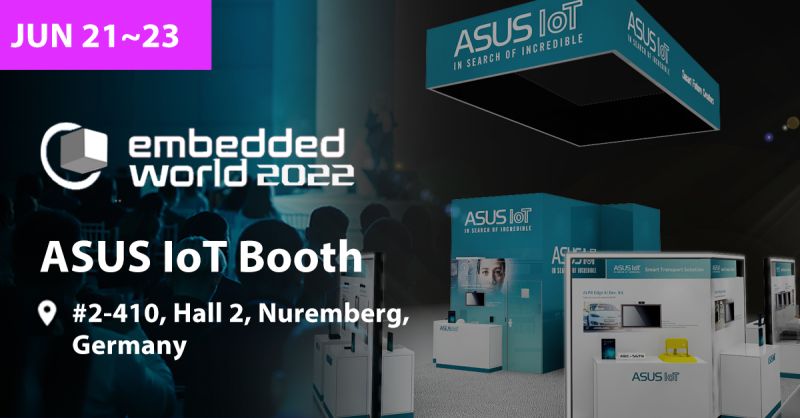 TAIPEI, Taiwan, June 10, 2022
ASUS IoT today announced the launch of Smart Future Creators, a global events series occurring both online and offline, and featuring the full array of ASUS IoT solutions. The goal is to accelerate the adoption of new technologies to enhance customer experience and optimize retail operations.
Beginning June 13, 2022, and running through June 23, 2022, Smart Future Creators will see ASUS IoT hosting a series of webinars. The campaign will conclude at the Embedded World exhibition in Nuremberg, Germany, from June 21-23, 2022, where ASUS IoT will have a significant physical presence at the show, highlight our solutions for the smart retail, smart manufacturing, smart transportation and smart healthcare industries. To register for this event, please visit the Smart Future Creators microsite, at https://iot.asus.com/Embedded_world_2022.
These partner-achieved solutions are many and varied, and include: smart signage with both age and gender detection for targeted advertisement; AI-driven stock-replenishment systems for non-labelled goods, such as fresh produce, bakery items and confectioner; self-checkouts with object recognition for frictionless shopping experiences; and in-store audience analytics to monitor and calculate footfall, visit duration and customer journeys — helping retailers determine the efficacy of store layout and correlate display position to product performance.
Smart retail solutions webinar: The path to retail transformation
Smart retail solutions — that is, smart technologies that give consumers better, faster, safer and smarter shopping experiences — have become critically important with the recent rise in contactless retail. This webinar, scheduled for June 13, 2022, will detail the numerous and innovative ASUS IoT smart retail solutions created to enhance customer experiences, optimize supply chains and create revenue streams.
Alongside our partners, ASUS AIoT has developed multiple solutions to provide improved customer experiences, more efficient in-store operations, and a better supply-chain system. Our strategy is to deliver omni-channel, seamless, touchless and customer-centric solutions, and we already offer many solutions for smart retail — including audience analytics, smart signage, heat maps and occupancy, smart restocking, vending machines, self-checkouts and smart solutions for managing delivery services.
We will be joined during this webinar with representatives from our partners, Intel® and Quividi, who will share details about their own new technologies and successes in the smart retail arena.
Intel has been critical in the process of promoting ASUS IoT solutions. We are currently deploying several smart retail projects thanks to Intel's strong connection with end-users in the sector. The company will speak about the latest trends in smart retail, as well as the collaboration with ASUS IoT.
Quividi is an ISV partner that provides AI-driven solutions in the advertising space — and specifically digital signage. Its software is able to detect people's age and gender, their facial expressions (and associate them with the emotions evoked by the content being displayed), the length of time that people spend looking at the ad and the amount of people watching the ad at any one time, among much else. This has transformed the industry, making digital ads interactive according to the audience's reaction, and generally, making digital signage advertisement quantifiable.
Smart transportation solutions webinar: Trends in smart transportation systems
This webinar, scheduled for June 15, 2022, will showcase the comprehensive portfolio of ASUS IoT solutions that are tailor-made for transportation solutions and the transportation industry more widely. It will also explore essential use cases, including license-plate recognition (LPR) for access control, parking-bay occupancy, applications for electric vehicles (EVs), smoke and fire detection and traffic-infraction detection.
This webinar will focus on the ASUS IoT partnership with ioNetworks to create an AI-driven transportation solution. An ISV focused on the development of AI analytics, ioNetworks has several successful government deployments under its belt —monitoring traffic flow and infractions on the road. Its technologies empower vehicle counting, vehicle classification, people counting, LPR, wrong-direction detection, smoke and fire detection, empty-parking-slot detection and fall detection. Specifically, ASUS IoT is currently working on smart-parking project in the Netherlands, where ASUS IoT hardware is paired with ioNetworks software to automate access control, parking-spot reservations, EV-charger management and general security.
ASUS IoT at Embedded World, from June 21 to June 23
Embedded World, Nuremberg, Germany, is renowned as the world's premier gathering for those involved with or interested in the vibrant arena of embedded solutions. It attracts a large confluence of visitors from diverse industries, including information technology, automotive, healthcare, telecommunications, military and aerospace — and many more besides.
The exhibition is the perfect place to learn about new and emerging smart technologies, as well as mix with industry players big and small. As a burgeoning brand in this industry ASUS IoT will be hosting is own booth at Embedded World, highlighting the work we are doing with ecosystem partners to accelerate the adoption of new technologies for retail.
Visitors to the ASUS IoT stand, #2-410 in Hall 2, will be able to learn more about our partner program, through which we join AI analytics specialists, ISVs, VARs and SIs to deliver plug-and-play solutions to retailers of different sectors. The solutions displayed at Embedded World are the result of a close collaboration with our partners, and created to shorten the path to deployment.
The conference runs from June 21-23, 2022 — with opening hours of 09:00-18:00 on June 21-22, 2022, and 09:00-17:00 on June 23, 2022.