ASUS ANNOUNCES HIGH-PERFORMANCE AI ACCELERATOR CARDS
2020/11/12
KEY POINTS
Plug-and-play AI: All-new PCI Express 3.0 AI accelerator cards deliver up to 64 tera operations per second for diverse machine-learning and modeling scenarios
Advanced thermal design: Twin axial-tech turbofans and copper heatsink for stable high-load operation
ASUS and Google Coral: Collaborating in the development of on-device AI solutions for both business and consumer applications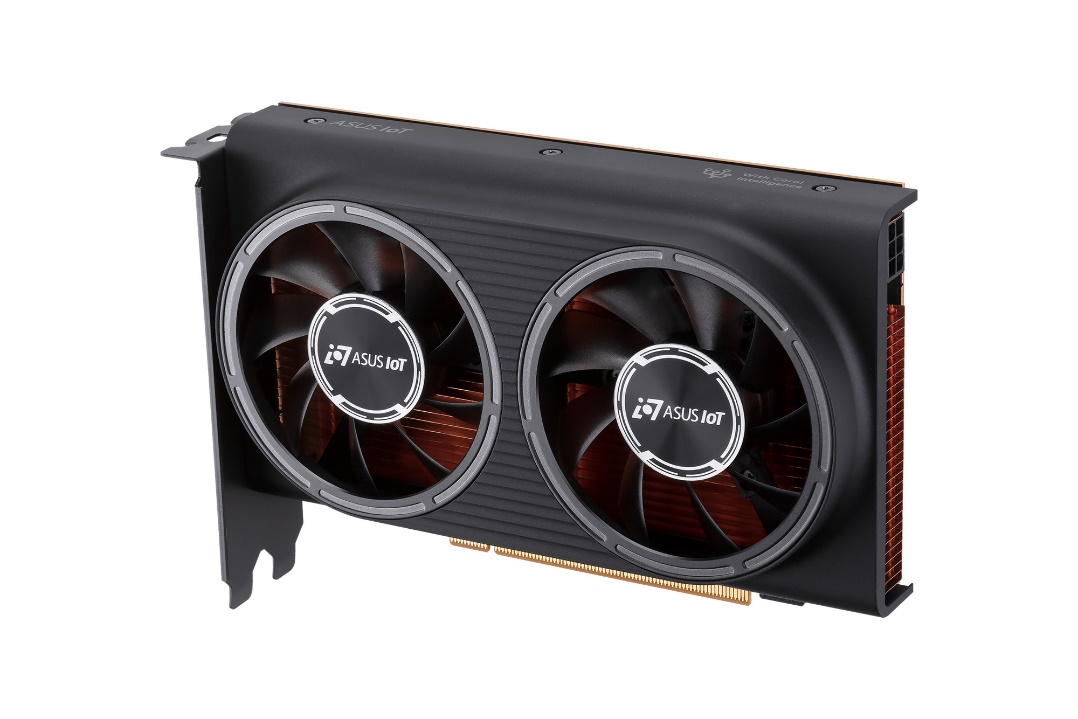 TAIPEI, Taiwan, November 12, 2020
ASUS today announced CRL-G18U-P3DF and CRL-G116U-P3DF, two new full-height, half-length, PCI Express® 3.0 AI accelerator cards based on the Google Edge TPU — the processor specially designed for AI applications.
Both new cards feature the Edge TPU, a machine-learning (ML) accelerator that speeds up processing efficiency, lowers power demands and makes it easier to build connected devices and intelligent applications. With this onboard ML accelerator, CRL-G18U-P3DF is capable of performing at up to 32 tera operations per second (TOPS) using only 36 W per unit of computation, while CRL-G116U-P3DF ups performance to a maximum of 64 TOPS at 52 W. The cards are also optimized for the TensorFlow Lite deep-learning framework, making it easy to compile and run common ML models.
Advanced thermal design and easy installation
ASUS CRL-G18U-P3DF and CRL-G116U-P3DF offer a compelling and powerful plug-and-play experience for AI acceleration. The cards are engineered to be stable at high loads, with an optimized thermal design with twin axial-tech turbofans to propel cool air over a copper heatsink — rapidly dispatching heat from the cores to ensure nonstop, high-performance operation.
The new cards are also solidly constructed, with a one-piece cover providing strong reinforcement on all sides. They're ready for use in industry-standard PCI Express 3.0 x16 slots, providing an accessible and easy upgrade path to a broad range of users.
With CRL-G18U-P3DF or CRL-G116U-P3DF installed, users are able to enjoy on-device inferencing capabilities to build products that are efficient, private, fast and offline. They're also the perfect choice for independent software vendors (ISVs) and system integrators (SIs) wishing to deploy their AI models on the edge for diverse vertical applications.
Developing edge AI solutions with Google Coral
A new partnership between the ASUS IoT business unit and the Google Coral platform is focused on developing AI solutions for edge computing. Specifically, the new ASUS IoT AI accelerator cards provide AI-development hardware for users, featuring with the Google Edge TPU enabling the creation of AI-powered projects.
Of course, ASUS IoT is more than a hardware provider. Our dedicated support pages provide the latest updates and comprehensive product information, helping users to find what they need quickly and easily. This ensures that CRL-G18U-P3DF and CRL-G116U-P3DF are the perfect choice for those seeking to develop AI applications for defect detection, obstacle avoidance, responsive retail advertising and much more.
AVAILABILITY & PRICING
CRL-G18U-P3DF and CRL-G116U-P3DF are available via the distribution channels listed below. Please contact your local ASUS representative for further information.

SPECIFICATIONS
CRL-G18U-P3DF
CRL-G116U-P3DF
Main Chip
Core
Google® Coral Edge TPU Processor
PCI Express® interface
PCI Express® 3.0 x16
Software
Supported Framework
TensorFlow lite
Precision
INT8
Performance
32 TOPS
64 TOPS
Thermal Solution
FAN design
Active Fan
Power
Power Connector
1 x 6-pin 12V External Power
Power Consumption
36 W
52 W
Operating System
Linux
Ubuntu 18.04, Debian 10
* For latest OS support list, please check https://iot.asus.com/.
Environment
Operating Temperature
0~55°C
Non-Operating Temperature
-40~85°C
Relative Humidity
0%~85%
Dimensions
Width
42.1 mm
Height
126.3 mm
Depth
186.3 mm
Weight
516 g
530 g
About ASUS
ASUS is a multinational company known for the world's best motherboards, PCs, monitors, graphics cards and routers. Along with an expanding range of superior gaming, content-creation and AIoT solutions, ASUS leads the industry through cutting-edge design and innovations made to create the most ubiquitous, intelligent, heartfelt and joyful smart life for everyone. With a global workforce that includes more than 5,000 R&D professionals, ASUS is driven to become the world's most admired innovative leading technology enterprise. Inspired by the In Search of Incredible brand spirit, ASUS won more than 11 awards every day in 2019 and ranks as one of Forbes' World's Best Regarded Companies and Fortune's World's Most Admired Companies.