ASUS Unveils Comprehensive Portfolio of Cutting-Edge Smart Healthcare Solutions at MEDICA 2023
New medical AI, medical imaging, mobile health, tele-healthcare and other ASUS solutions facilitate the digital transformation of healthcare
2023/11/13
KEY POINTS
New EG520-E11 imaging server offers genome simulation, real-time system monitoring, and AI interfacing for more efficient patient diagnosis
ASUS MH3281A & MH2441A clinical monitors meet DICOM Part 14, target FDA and TFDA Class 1 requirements, and feature exclusive DICOM Preset mode
ASUS Handheld Ultrasound LU700 series offers compact and lightweight point-of-care ultrasound (POCUS) solutions
ASUS VivoWatch features ECG and PPG sensors, and tracks wearers' vital signs and exercise, analyzes collected data, and offers personalized health tips
ASUS HealthHub securely collects and transmits patient self-measurement data to designated healthcare providers via the cloud, for remote status monitoring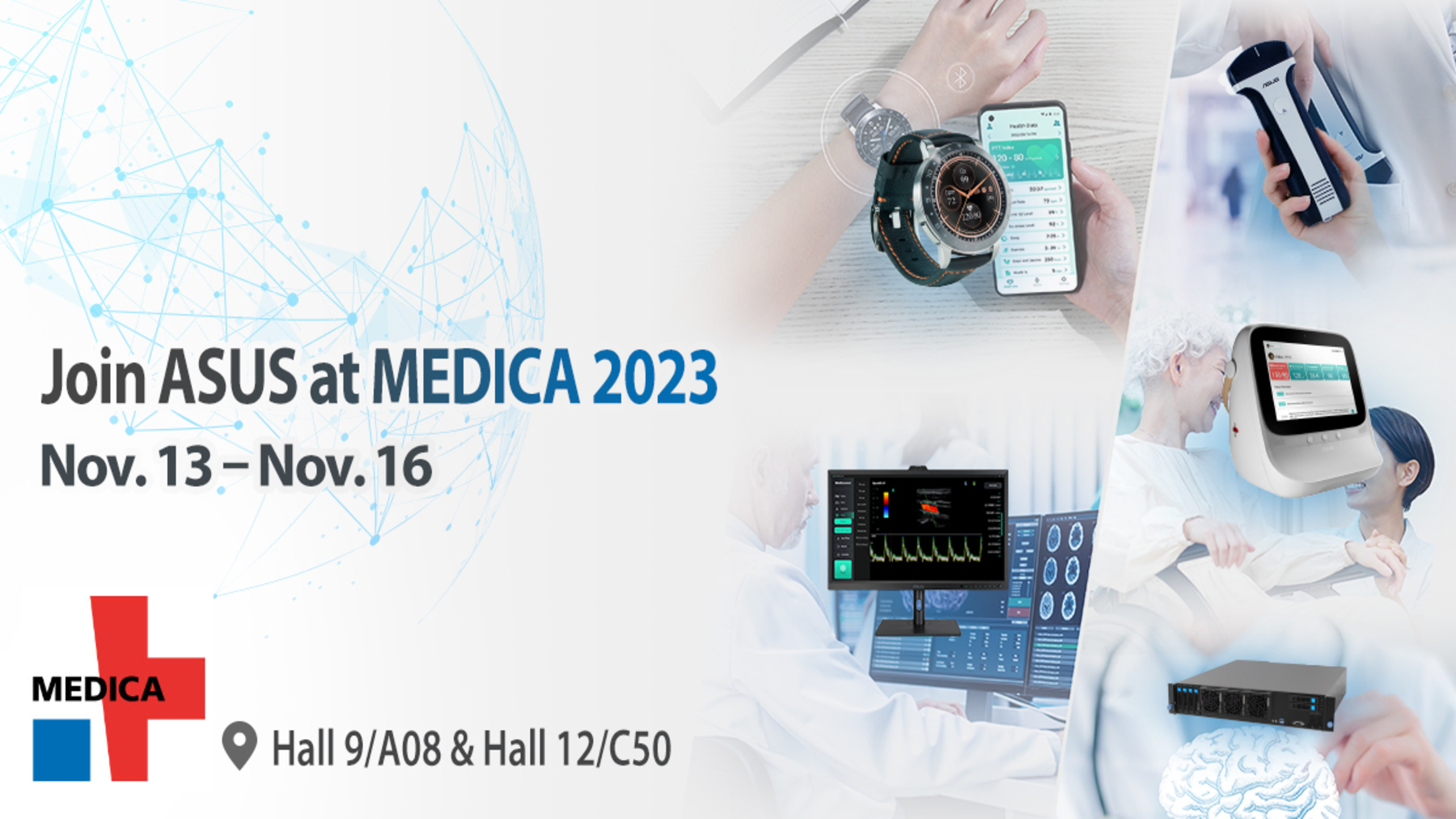 DÜSSELDORF, Germany, November 13, 2023 — ASUS today announced a showcase of cutting-edge Smart Healthcare solutions that will be on display at MEDICA 2023, the world's largest medical trade fair. ASUS is fully committed to the Smart Healthcare sector and creates medical AI, medical imaging, mobile health, tele-healthcare and other solutions to facilitate the industry's digital transformation.
"We've collaborated closely with leading hospitals in Asia to advance healthcare solutions, while actively exploring opportunities to expand to other markets," said Joe Hsieh, Chief Operating Officer and Global Senior VP of ASUS. "Our strength is in the integration of information and communication technologies (ICT), AI, cloud, and IoT with healthcare processes. Our focus is on pioneering innovative solutions that empower people everywhere to enjoy healthier lives."
AI-enhanced medical imaging
ASUS continues to develop machine learning and AI-driven analytics solutions. The new EG520-E11 imaging server offers advanced AI functions including genome simulation, real-time system monitoring, and AI interfacing to significantly enhance efficiency and save healthcare professionals valuable time when assessing a patient.

The new ASUS MH3281A and MH2441A clinical monitors will also be on show at MEDICA 2023. The MH3281A features a 31.5-inch anti-glare OLED panel, while the MH2441 has a 23.8-inch IPS panel with an anti-glare low reflection (AGLR) coating. Each monitor is designed to meet DICOM Part 14, and is targeting to meet FDA and Taiwan FDA (TFDA) Class 1 requirements. Both monitors feature the ASUS-exclusive DICOM Preset mode that auto-compensates for the DICOM curve, depending on ambient lighting. Both monitors also have a hardware calibration feature and are factory pre-calibrated to JND<10% to ensure long-term DICOM accuracy.

The ASUS Handheld Ultrasound LU700 series offers compact and lightweight point-of-care ultrasound (POCUS) solutions. Medical professionals can conveniently conduct ultrasound scans in hospitals or in the field in ambulances with the LU700 and its mobile app.
Smart wearables
The latest ASUS VivoWatch series is a leading wearable health tracker equipped with medical-grade electrocardiogram (ECG) and photoplethysmography (PPG) sensors, along with ASUS HealthAI technology. This compact and lightweight wearable offers 24/7 tracking of vital signs, data analysis, fitness tracking — and it provides personalized health tips.
Telemedicine
ASUS HealthHub is a comprehensive solution for continuous care. It collects patients' self-measurements and securely transmits the data to designated healthcare providers via the cloud, allowing medical professionals to remotely monitor and assess patient status. This contactless approach significantly reduces the risk of cross-infections in hospitals and has been proven to improve the productivity of nursing staff by up to 12.5%. ASUS HealthHub features three software versions — Hospital, Kiosk, and Home — to cater to different users and scenarios.
ASUS Booth at MEDICA 2023
Date: 13–16 November, 2023
Venue: Messe Düsseldorf, Düsseldorf, Germany
Booth no: Hall 9/A08 and Hall 12/C50