ASUS AND INTEL JOIN FORCES TO BUILD MOBILE MEDICAL CARTS SUPPORTING HEALTHCARE PROFESSIONALS WITH EFFICIENCY AND SAFETY
2021/04/14
KEY POINTS
ASUS intelligent telemedicine cart: High performance, long battery life and broad I/O support empowers new-generation nursing station
Delivering real-world results: Cloud-connected nursing cart helping hospital doctors to provide care for COVID-19 patients in isolation wards
Strong industry collaboration: Intel Core processors deliver unparalleled performance, with VSee technology providing cloud-management platform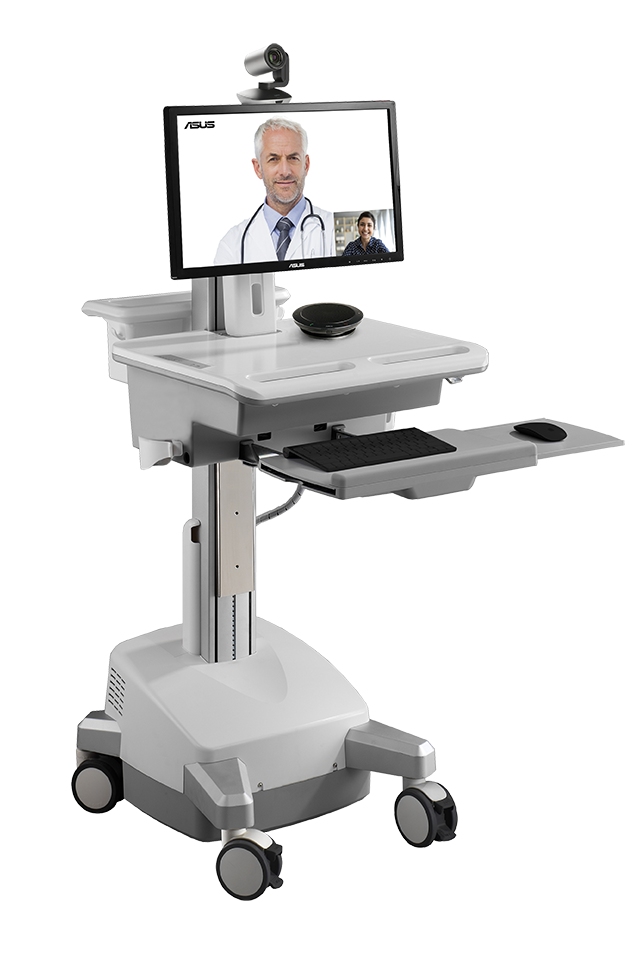 TAIPEI, Taiwan, April 14, 2021
COVID-19 took the world by surprise in early 2020 and presented unprecedented challenges to the global community. In response, the healthcare industry has been ramping up efforts to empower medical professionals in the combat against the pandemic – and remote healthcare solutions that support mobility is a focus area of such efforts. ASUS, Intel® and VSee collaborated with the Taipei City Hospital, Heping Fuyou Branch, to implement an intelligent mobile medical project to enable the doctors and nurses to interact, diagnose symptoms and provide support to patients who are in isolation rooms. The project also allows the patients' families to communicate with the patients virtually to minimize the risk of being affected by the virus.
A spokesperson for Taipei City Hospital, Heping Fuyou Branch said: "I am very pleased to receive our first ASUS telemedicine carts, which can not only assist medical staff in diagnosing and caring for patients in isolation wards, but also allow family members to communicate with patients via video, reducing the risk of infection."
"Telemedicine will be one of the key drivers of healthcare provision as the world moves forward, both from the COVID-19 pandemic and beyond," noted Jackie Hsu, ASUS Senior Vice President. "The new ASUS telemedicine cart provides doctors, nurses and other healthcare professionals with access to safe, efficient and powerful diagnosis, monitoring and support tools – both in existing healthcare settings and remotely."
"Intel is incredibly proud to collaborate with ASUS and the Heping Hospital on this telemedicine project. The pandemic has proven now more than ever the essential role technology plays in connecting the world and enriching lives. This project is yet another example of the collaboration between Intel and ASUS over the last three decades. It's wonderful to see us coming together to help those in need during these challenging times, said Michelle Johnston Holthaus, Intel executive vice president and general manager of the Sales, Marketing and Communications Group.
Ultimate CPU and GPU performance for IoT devices
Powered by Arm 6-core system on a chip (SoC), with the new 64-bit Armv8 architecture — the Rockchip RK3399 — Tinker Board 2 and Tinker Board 2S offer significantly improved performance compared to other popular SBC boards.
The new Tinker Boards also features Arm big.LITTLE™ technology, which is a heterogeneous processing architecture that pairs two very different processors together in a single SoC. The big.LITTLE software automates task allocation, ensuring the right CPU core for each process. The upshot is that Tinker Board 2 and 2S delivers 1.5X more performance than the original Tinker Board, and is significantly faster than many competing SBCs.
For serious graphics grunt, Tinker Board 2 series includes Mali-T860 – a multi-core GPU that is the highest performance model built on Arm's Midgard architecture. Specifically, Mali-T860 is designed for complex graphics use cases, and offers full support for OpenGL ES 3.0/3.1, OpenVG 1.1, OpenCL and other frameworks for next-generation and legacy 2D/3D graphics applications. Compared to the original Tinker Board, Tinker Board 2's Mali-T860 GPU accelerates graphics performance by up to 28%.
A one-stop healthcare solution for diagnosis, monitoring and support
Mobile technologies have long been used for healthcare purposes. For example, mobile nursing carts are now standard equipment commonly seen at hospitals. They are ideal for simple procedures such as wound-dressing changes and blood-pressure checks but are inadequate to meet healthcare needs in isolation wards or remote villages. In comparison, the ASUS mobile, intelligent telemedicine cart offers the medical professionals a perfect remote-healthcare solution.
Starting from October 2020, doctors and nurses at the Heping Hospital have been delivering a variety of medical services to patients in the professional negative-pressure isolation rooms via a connection between a remote system and the smart telemedicine cart in the room. The system also allows families to see the patient under isolation from the computer screen in the reception area. Apart from being deployed at hospitals, the telemedicine cart can also be taken to a patient's home to enable doctors to legally make diagnoses and issue prescriptions and neither the doctor nor the patient needs to pay a visit physically.
This solution is the result of joint efforts by ASUS, Intel and VSee, and a clear, real-world demonstration that integrating high-performance computing, wide-ranging I/O support and a well-architected cloud platform enables medical professionals to efficiently cope with all kinds of mobile-healthcare needs.
Trusted ASUS hardware powers a new generation of mobile nursing station
The telemedicine cart features an ASUS medical computer, network-communication equipment, long-life battery and wide-ranging I/O interfaces. The purpose-built ASUS medical computer comes with a fanless design and a wide operating temperature range to significantly boost system reliability.
With a touchscreen that is easy to disinfect using alcohol, there is no keyboard to harbor germs and bacteria. Furthermore, the medical computer is equipped with high-resolution cameras to capture images from different angles, helping the doctor make diagnoses. Its slew of I/O interfaces accommodate instant connections to a diversity of medical devices.
Competing nursing stations generally have multiple devices of different brands. It is a challenging task to integrate all these devices, and this also prevents nurses from working more efficiently. Supporting wide-ranging communication standards including USB, Wi-Fi, Bluetooth and RFID, the ASUS telemedicine cart enables plug-and-play connectivity to medical devices of various brands, taking the hassle out of medical work.
Partnering with Intel to provide high-speed, high-efficiency healthcare
Intel Core™ processors offer unparalleled performance in the industry and play an instrumental role in powering ASUS telemedicine carts. Intel provides a comprehensive portfolio of products and development tools which are widely used by consumers, enterprises, academy and different vertical industries for years.
Running on an Intel Core processor, the ASUS telemedicine cart fully meets the healthcare industry's needs. Medical systems demand high-resolution images and high-speed processing of streaming data, so the systems must employ high-performance CPUs to be able to handle massive amounts of image data in real time.
Moreover, the ASUS telemedicine cart requires a long battery life to sustain at least eight hours of continuous operation. The Intel Core processor features high-performance computing with a level of energy efficiency that means it is the perfect match for ASUS telemedicine carts. To protect the patients' medical data with strict confidentiality, the integration of AES technology to encrypt the data from the hardware to software is also a key part of this medical solution.
Collaborating with VSee to deliver reliable cloud-based healthcare services
With respect to software, ASUS works with Intel's software partner VSee to develop the cloud-management platform for its mobile medical cart. VSee has accumulated years of experience in the vertical-application market and has launched multiple purpose-built cloud-management platforms for different industries.
In particular, the SaaS cloud platform for remote healthcare that is the result of VSee's collaboration with ASUS supports up to 10 simultaneous logins, allowing doctors in different regions to engage in online consultations. The patient's family can also join the online session. The ASUS mobile medical cart will automatically upload the data onto the cloud-management platform after the session concludes. The system will also automatically generate a report to ease the workload of the doctors and nurses.
Delivering positive-healthcare outcomes in the real world
The mobile medical cart has been deployed at the Heping Hospital thanks to the joint efforts of ASUS, Intel and VSee. In the face of COVID-19, the hospital continues to introduce the latest technologies to help strengthen the fight against the pandemic. The hospital team started to communicate with ASUS about what is needed at its isolation ward in July 2020. ASUS also turned to Intel and VSee and began intensive collaboration to build this ideal remote-healthcare solution. Eight mobile intelligent medical carts are currently being deployed at the hospital's isolation rooms and reception areas.
The future of telemedicine, empowered by ASUS, Intel and VSee
ASUS is able to leverage its decades of development in the high-tech sectors and in-depth understanding of various application fields to create robust technological solutions, such as the mobile medical cart. It is built on a foundation of ASUS hardware while integrating the strength of Intel's processors and VSee's SaaS cloud platform, so it is able to fully satisfy medical professionals' needs.
ASUS looks to expand its use from isolation wards to remote areas, to enable doctors to provide medical services online and help improve healthcare access in the field — allowing the technology to aid the health of people anywhere.
AVAILABILITY & PRICING
ASUS telemedicine carts will be available from DATE in COUNTRIES from PLACES. Please contact your local ASUS representative for further information.