ASUS ANNOUNCES ALL-NEW TINKER BOARD 2 SERIES
2020/11/19
KEY POINTS
Outstanding IoT performance: Powered by 6-core Rockchip RK3399 SoC with the new 64-bit Armv8 architecture, plus multi-core Mali-T860 GPU
Easy setup tool: Intuitive software for performance tweaking and monitoring, with simple three-step initial configuration
Pro-grade admin: ASUS IoT Cloud Console for data management and analysis, plus support for firmware over-the-air roll-out
Android 10 support: Better 3D performance, support for the Android Neural Networks and Adiantum encryption with 5X-greater efficiency.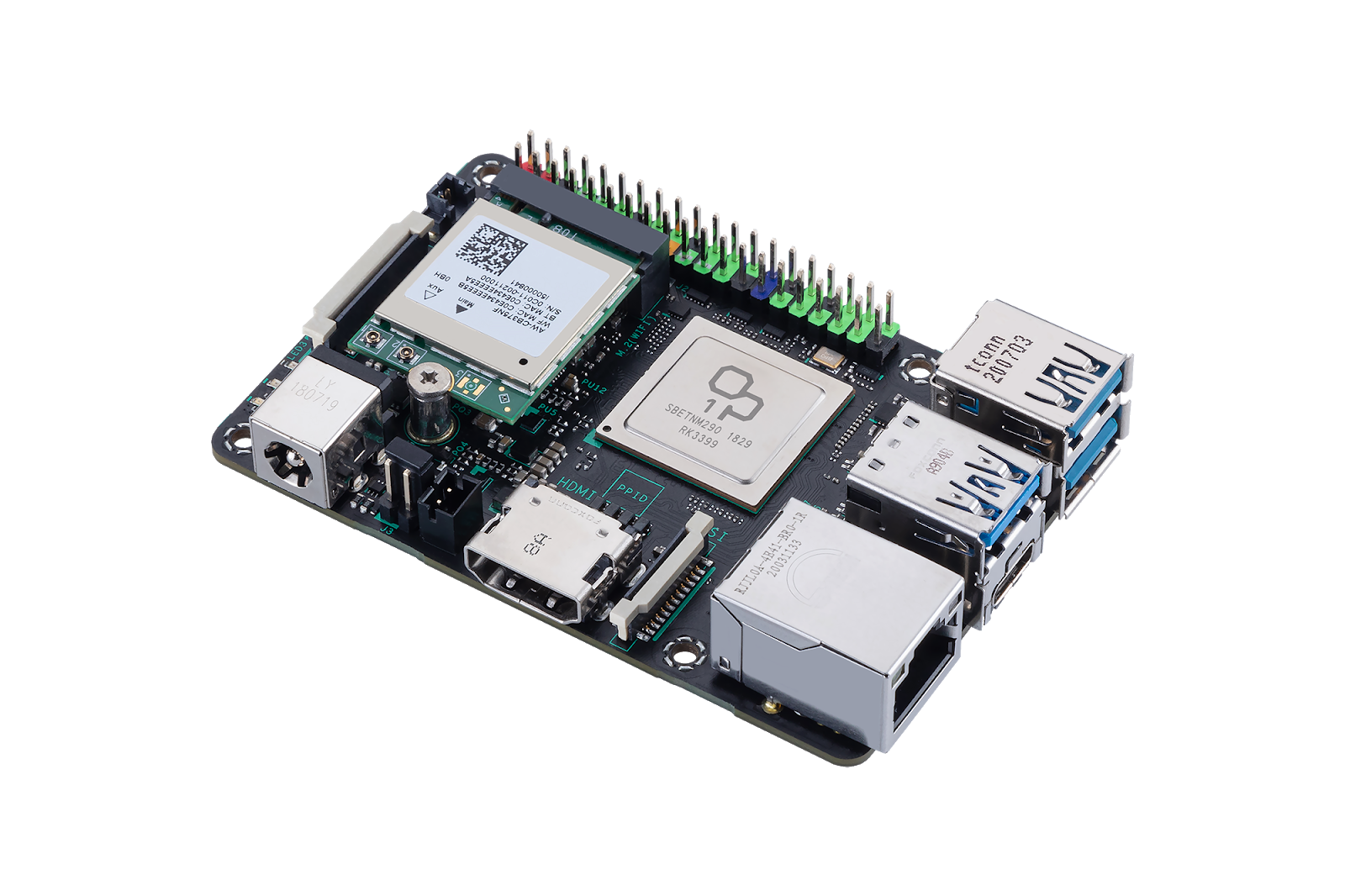 Taipei, Taiwan, Nov 19th, 2020
ASUS today announced the all-new Tinker Board 2 series, a range of Arm®-based, embedded single-board computers (SBCs) that packs serious performance into a package that's barely bigger than a credit card – making them the ideal platform for makers, IoT enthusiasts and hobbyists to bring their tinkering ideas to life.
Ultimate CPU and GPU performance for IoT devices
Powered by Arm 6-core system on a chip (SoC), with the new 64-bit Armv8 architecture — the Rockchip RK3399 — Tinker Board 2 and Tinker Board 2S offer significantly improved performance compared to other popular SBC boards.
The new Tinker Boards also features Arm big.LITTLE™ technology, which is a heterogeneous processing architecture that pairs two very different processors together in a single SoC. The big.LITTLE software automates task allocation, ensuring the right CPU core for each process. The upshot is that Tinker Board 2 and 2S delivers 1.5X more performance than the original Tinker Board, and is significantly faster than many competing SBCs.
For serious graphics grunt, Tinker Board 2 series includes Mali-T860 – a multi-core GPU that is the highest performance model built on Arm's Midgard architecture. Specifically, Mali-T860 is designed for complex graphics use cases, and offers full support for OpenGL ES 3.0/3.1, OpenVG 1.1, OpenCL and other frameworks for next-generation and legacy 2D/3D graphics applications. Compared to the original Tinker Board, Tinker Board 2's Mali-T860 GPU accelerates graphics performance by up to 28%.
Pro-grade admin with ASUS IoT Cloud Console and firmware-over-the-air updates
The new Tinker Board 2 models can be controlled by ASUS IoT Cloud Console (AICC) a unified platform for managing and analyzing big data collected by IoT devices running different operating systems. This provides a one-stop shop for quick troubleshooting, remote restart or updates and a simple dashboard for monitoring and analysis.
Firmware-over-the-air (FOTA) roll-out is also supported, enabling embedded systems developed using Tinker Board 2 or 2S to be updated remotely with the latest Android firmware, operating system and drivers.
Rich connectivity and support for dual displays at up to 4K UHD resolution
With HDMI, DisplayPort over USB-C and DSI all integrated Tinker Boards 2 and 2S offer superb display flexibility, and include the ability to support dual displays at up to 4K UHD resolution for compelling visual output
The new boards are also stacked in the connectivity department. Both USB 3.2 Gen 1 Type-A and USB 3.2 Gen 1 Type-C ports are onboard, along with WiFi 5 and 2x2 dual-band 2.4/5 GHz antennas to deliver wireless transfer speeds that are up to 10X faster than previous WiFi standards.
Tinker Board 2 and 2S also benefit from latest Bluetooth 5.0 technology built in, so for transfer speeds that are up to 2X faster and with up to 4X-greater range. Integrated Bluetooth also opens up the convenience and freedom of wireless connectivity with a wide range of devices, including speakers, headphones and game controllers. Tinker Board 2S additionally offers a microSD card slot on the underside of the PCB.
Easy setup tool and monitoring for perfect operation
Tinker Board 2 and 2S include a flexible setup tool to help tune every aspect of the system, enabling users to tweak performance settings to perfectly match the task at hand. This includes the ability to set the maximum and minimum frequencies for both the CPU and GPU, and a monitoring panel for keeping an eye on these key stat during operation.
Support for Android 10
Tinker Board 2 and Tinker Board 2S are engineered to run Android 10 opening up the tinkering world to a raft of exciting and interesting features that aren't unavailable on some competing SBCs.
SPECIFICATIONS
ASUS Tinker Board 2
ASUS Tinker Board 2S
SoC
Rockchip RK3399 (64-bit)
Rockchip RK3399 (64-bit)
CPU
Dual-core ARM Cortex-A72 @ 2.0GHz +
Quad-core ARM Cortex-A53 @ 1.5GHz
Dual-core ARM Cortex-A72 @ 2.0GHz +
Quad-core ARM Cortex-A53 @ 1.5GHz
GPU
ARM Mali-T860 MP4 @ 800MHz
ARM Mali-T860 MP4 @ 800MHz
Memory Size
Dual-CH LPDDR4 2GB/4GB
Dual-CH LPDDR4 2GB/4GB
Storage
1 x Micro SD card slot
1 x Onboard 16GB eMMC *
1 x Micro SD card slot
Display
1 x HDMI 2.0 (up to 4K/60Hz & CEC HW Ready)
1 x Type-C (DP 1.2)
1 x 22-pins MIPI DSI (4 lane)
1 x HDMI 2.0 (up to 4K/60Hz & CEC HW Ready)
1 x Type-C (DP 1.2)
1 x 22-pins MIPI DSI (4 lane)
Camera
1 x 15-pins MIPI CSI-2 (2 lane)
1 x 15-pins MIPI CSI-2 (2 lane)
Connectivity
1 x RJ-45 GbE LAN
1 x Wi-Fi 802.11 a/b/g/n/ac & BT 5.0
(2T2R, swappable antenna)
1 x RJ-45 GbE LAN
1 x Wi-Fi 802.11 a/b/g/n/ac & BT 5.0
(2T2R, swappable antenna)
USB
3 x USB 3.2 Gen1 Type-A
1 x USB 3.2 Gen1 Type-C OTG
3 x USB 3.2 Gen1 Type-A
1 x USB 3.2 Gen1 Type-C OTG
Internal Headers
- 40-pin connector for GPIO (I2C, PWM, UART, SPI, I2S, etc)
- DC fan header
- RTC battery header
- Power-On/Recovery headers
- 40-pin connector for GPIO (I2C, PWM, UART, SPI, I2S, etc)
- DC fan header
- RTC battery header
- Power-On/Recovery headers
Power Connector
12V~19V DC-in (Barrel jack 5.5Ø/2.5Ø)
12V~19V DC-in (Barrel jack 5.5Ø/2.5Ø)
OS Support
Debian 9 / Android 10 (2021 Q1)
Debian 9 / Android 10 (2021 Q1)
Dimension
85 x 56 mm
85 x 56 mm