ASUS ANNOUNCES SMART-HEALTHCARE WEBINAR, PRODUCTS AND OUTLOOK
2021/05/26
KEY POINTS
ASUS smart healthcare webinar: Free event during Computex Cyberworld 2021 will explore company's digital healthcare and medical solutions.
ASUS VivoWatch: Stylish smart wearable device offers preventive healthcare and insights that travels with the user
ASUS portable ultrasound unit: Next-generation endocavity and phase-array scanner covers almost all the important organs
ASUS Miraico: AI-powered ICD-10 coding assistant employs natural-language understanding to analyze medical records and recommend relevant codes
ASUS intelligent telemedicine cart: Powerful mobile nursing station with long-life battery and a wide range of I/O connectors
ASUS IoT PV100A: Intelligent in-vehicle edge gateway for ambulances enables provision of remote healthcare and fleet monitoring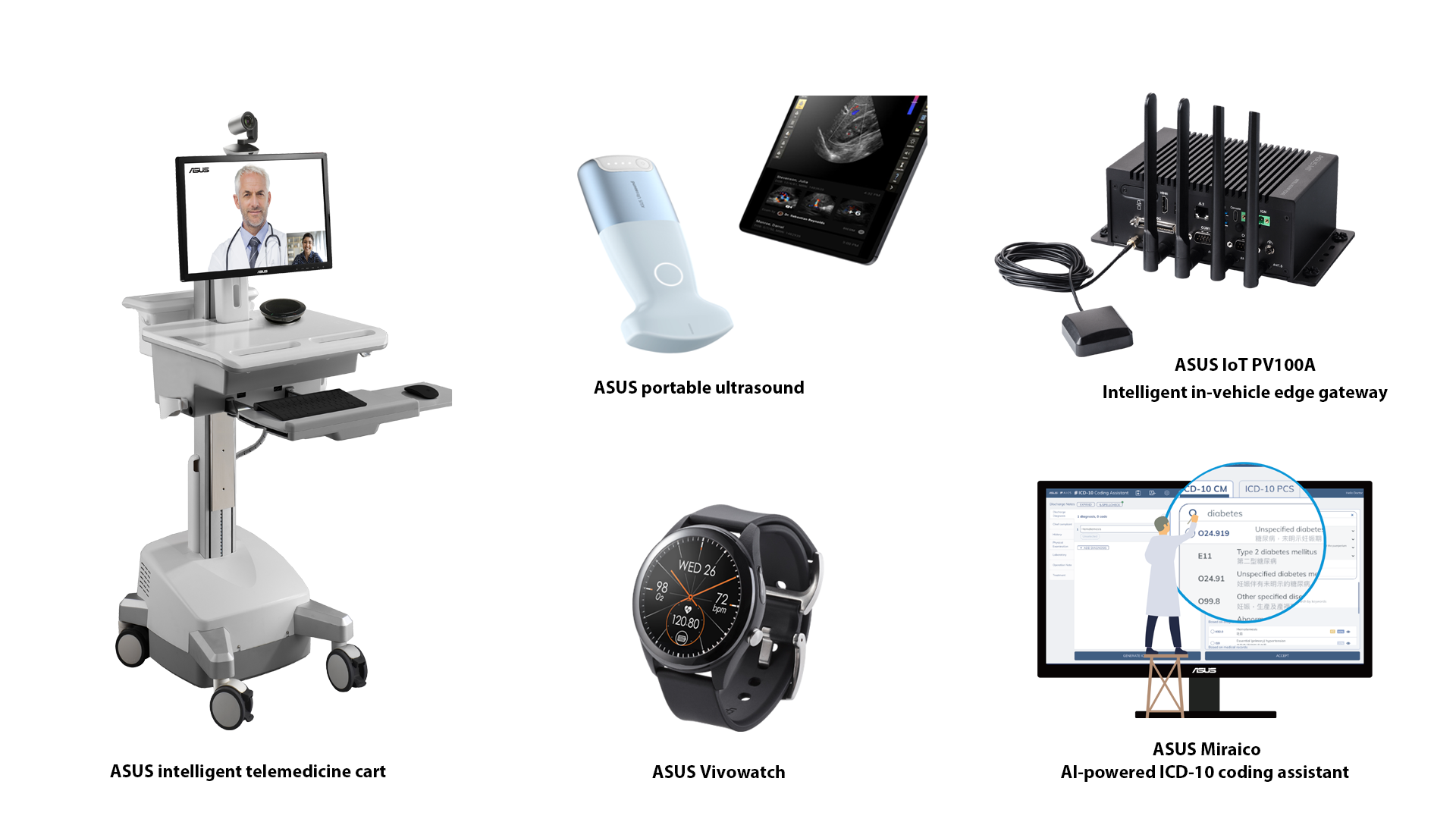 ASUS is set to host a webinar at Computex Cyberworld 2021 that will demonstrate an increased focus on developing its brand in the smart-health arena, as well as revealing a raft of new solutions that leverage cutting-edge digital technologies to serve a diverse array of medical settings and needs.
The all-new range of holistic smart-healthcare devices and services from ASUS have a particular focus on electronic and mobile health. The solutions include: a wearable devices for personal preventive healthcare in the home and beyond; intelligent equipment for use in hospitals, such as a digital, portable ultrasound scanner and an AI-powered ICD-10 coding assistant; an innovative telecare solution for providing remote diagnosis and support; and an in-vehicle management system for ambulances and other mobile medical vehicles.
ASUS will host a webinar during Computex Cyberworld 2021, on June 2 at 10:00AM (GMT+8) . Attendance of this virtual event is free of charge, and registration is open now – at https://seminars.tca.org.tw/D17f00385.aspx
ASUS VivoWatch series: Preventive healthcare and insights that travels with the user
ASUS VivoWatch is an intelligent, wearable health tracker that offers 24/7 health-and-fitness monitoring, plus smart insights to help people maintain a healthy lifestyle, achieve fitness goals and aid rest patterns.
When paired with the ASUS HealthConnect app featuring HealthAI technology, VivoWatch makes it easy to track heart rate, pulse transit time (PTT), body harmony index, exercise and sleep. The devices also delivers personalized health-management tips, direct to the wearer.
ASUS portable ultrasound unit: Next-generation endoscopic and phase-array scanner
It's an irreversible trend to miniaturize medical devices to create much-lighter designs, and the ASUS portable ultrasound solution – set to be introduced during Computex – is leading the march in the smart-healthcare area.
It is the first 64-channel portable ultrasound solution from ASUS and, with both endoscopic and phase-array facilities, it can cover almost all the important organs, body parts and scenarios for ultrasound scanning – from the cardiopulmonary system to invasive procedures to assess digestive (gastrointestinal) and lung diseases.
The new ASUS potable ultrasound device is up to 98% smaller and 99.4% lighter than traditional and cart-based equipment. Also, due to its wireless, pocket-sized and lightweight design, coupled with a four-hour battery life, it can be used in many scenarios where a traditional cart-based ultrasound device cannot – such as an ambulance, general out-patient department room, home visits and telecare.
It is also supported by easy-to-use software, including apps for iOS, Android and Windows, an AI tool, and an automatic report-generation system.
ASUS Miraico: AI-powered ICD-10 coding assistant
ASUS Miraico is the world's first medical-coding AI assistant to capture the complete patient journey. Empowered by AI, Miraico automatically recommends ICD-10 (International Classification of Diseases, Tenth Revision) codes in real time by analyzing free-text medical records, optimizing hospital operational efficiency, accelerating revenue cycle and improving reimbursements.
Easily integrable into existing Electronic Health Records (EHRs) and coding workflows, Miraico uses advanced natural language understanding (NLU) technology to analyze clinical terminology in medical records, increases efficiency in diagnostic-related group (DRG) assignment processes, and automatically recommends the most relevant and accurate ICD-10 codes, with benefits like increasing coding productivity, coding accuracy, hospital case-mix indexing and potentially revenue improvements through the avoidance of under-coded bills.
ASUS intelligent telemedicine cart: A powerful mobile nursing station
ASUS Intelligent Telemedicine Cart is an a mobile nursing station featuring an ASUS medical computer, network-communication equipment, long-life battery and wide-ranging I/O interfaces. The purpose-built ASUS medical computer comes with a fanless design and a wide operating temperature range to significantly boost system reliability.
Our new Intelligent Telemedicine Cart has a virtual-round feature that enables doctors and other healthcare staff to see and treat patients from outside isolation wards, by leveraging the power of mobile devices – effectively reducing the number of frontline healthcare professionals that need to enter such care units. It also helps to ensure that healthcare providers adheres to the appropriate regional and international regulations relating to the handling and transfer of private medical information, including America's Health Insurance Portability and Accountability Act (HIPAA).
ASUS IoT PV100A: Intelligent in-vehicle edge gateway
ASUS IoT PV100A is an intelligent in-vehicle edge gateway for ambulances, which enables remote healthcare professionals to receive first-aid instructions via a cloud-based platform – including real-time video calls. Back at base, the control center is able to relay key information about the ambulance, including the location and both the vehicle and driver status, enabling staff to make informed decisions on dispatch.
PV100A is equipped with a broad selection of inputs, outputs and sensors for diverse peripherals and scenarios. These include HDMI, Ethernet, serial ports, a DIO and, mic-in and line-out, plus built-in GPS. Through these ports PV100A can be configured to provide health information via a touchscreen display, real-time video surveillance and remote diagnosis via an IP camera, plus remote control and diagnosis of the ambulance – including control of sirens and monitoring of the vehicle condition and driver behavior.
All of this means PV100A is engineered to serve as an in-vehicle edge gateway, ready to create the concept of an internet of ambulances.