ASUS IOT ANNOUNCES PE3000G
2023/01/19
KEY POINTS
Edge AI system for MXM GPUs: Unparalleled performance with NVIDIA Ampere/Turing or Intel Arc A-series GPUs
Rugged design: Engineered to thrive extreme environments and diverse scenarios, with wide operating-temperature range and no throttling
Ready for heavy workloads: Designed for demanding edge AI applications, including machine vision, intelligent video analytics and autonomous vehicles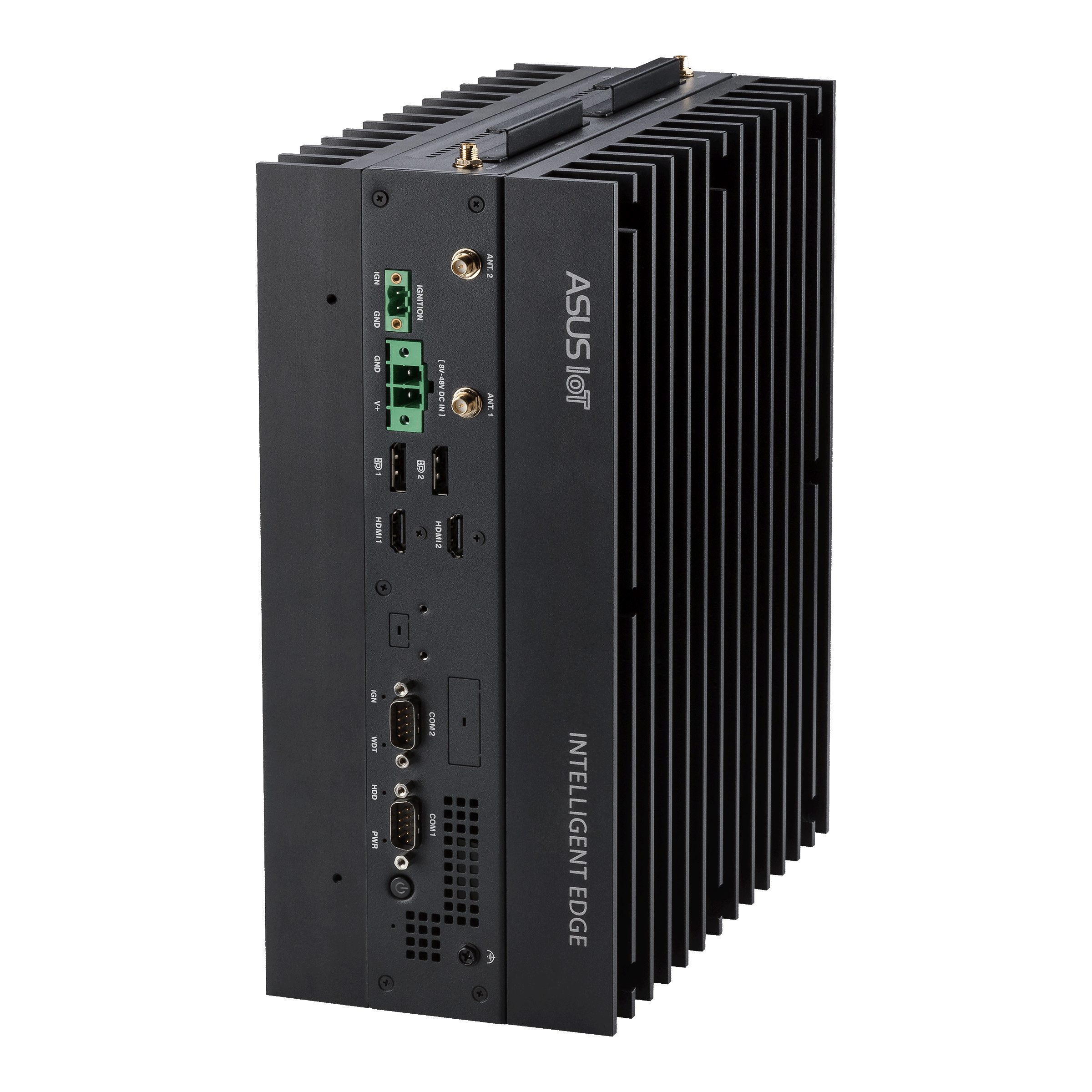 Taipei, Taiwan, January 19, 2023
ASUS IoT, the global AIoT solution provider, today announced PE3000G — the industry's first edge AI system to support Mobile PCI Express® Module (MXM) GPUs from both NVIDIA® and Intel®. Specifically, the all-new industrial PC works seamlessly with NVIDIA Ampere/Turing or Intel Arc™ A-series MXM GPUs.
Powered by an 12th Gen Intel Core™ processor and up to 64 GB DDR5 4800 MHz memory, and combining a proven power design, guaranteed and fanless thermal performance, and superior physical and mechanical ruggedness, PE3000G brings unprecedented longevity, computing power, flexibility and reliability to AI computing at the edge — making it an ideal option for scenarios where resilience, longevity and both CPU and GPU scalability are paramount.
"PE3000G is ASUS IoT's response to the burgeoning demand for accelerating AI inference and extreme deployment in industrial settings," commented KuoWei Chao, General Manager of the ASUS IoT business unit. "With robust power, thermal and mechanical design, it pushes versatile edge-AI-inference applications to mission-critical applications. PE3000G is an ideal fit to accelerate edge AI inference in SWaP-constrained applications, such as machine vision in factory automation, outdoor surveillance system and AI-inference systems for autonomous vehicles."
Flexible, resilient and ready to empower AI in diverse environments
PE3000G is engineered with a brand-new power-delivery design to accept a wide, 8-48V range of DC inputs, along with built-in ignition control to handle in-vehicle requirements. With screw-locked I/O for rock-solid stability, and military-grade MIL-STD-810H shock and vibration testing make it the perfect choice for AI inference system in autonomous vehicles.
In addition, with Power over Ethernet Plus (PoE+) support for industrial cameras, as well as IP cameras, PE3000G is ready to drive diverse machine-vision and surveillance applications. Physically, PE3000G benefits from superior heat dissipation design, with two dedicated heatsinks and a patent-pending system design — ensuring it delivers reliable operation even in harsh conditions.
For more information about PE3000G, please contact ASUS_IoT@asus.com