ASUS IOT ANNOUNCES PE6000G
2023/03/14
KEY POINTS
Primed for demanding AI computing: Supports up to 450 W GPU card, for real-time AI inferencing at the edge
Phenomenal power and thermal design: High resilience guarantees stability under extreme temperatures, volatile voltages and high vibration
Ideal for industrial autonomous driving: Military-grade strength, wide DC-in voltage support, built-in ignition power control and power monitoring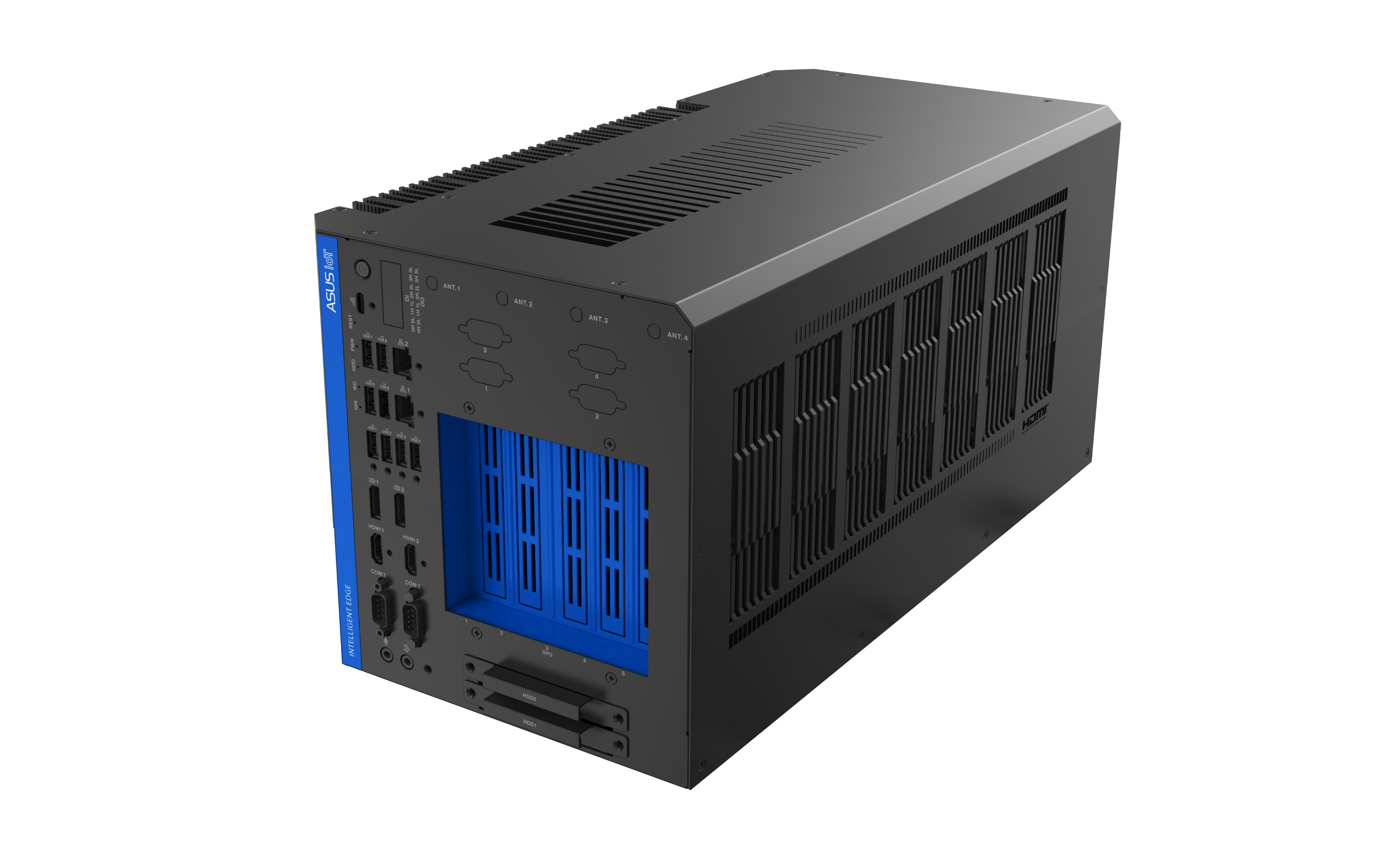 TAIPEI, Taiwan, March 14, 2023
ASUS IoT, the global AIoT solution provider, today announced PE6000G — the industry's first edge AI system that supports up to a 450-watt GPU for high-throughput, demanding GPU-computing applications. Powered by a 12th Gen Intel® Core™ processor and paired with the Intel R680E chipset, PE6000G supports up to 450 W graphics card power, meeting requirements for enabling real-time AI inference at the edge.
Demand for high-performance GPU-accelerated solutions at the edge is increasing to satisfy mission-critical AI applications. Users who require rugged and durable systems to withstand shocks and vibration, plus wide-range operating temperatures to accommodate high GPU computing power face the dilemma of finding the systems that provide the necessary specifications to meet physical space constraints, along with heat dissipation and power consumption within a rugged mechanical design. The all-new PE6000G series strikes a balance between all these needs for deployment in a variety of challenging environments.
PE6000G is a high-end, AI-enabled computing platform ideal for deep learning training and inference at the edge. It supports up to 64 GB of ECC / non-ECC DDR5 4800 SDRAM, four 2.5-inch SSDs and one each of M.2 M key (NVMe), M.2 B key (5G NR) and M.2 E key (WiFi 6). It also provides rich connectivity with a full spread of common I/O ports, plus support for the latest full-height, full-length graphics cards — enabling real-time inferencing, and transferring AI to the edge.
Phenomenal power and thermal design
When processing huge data sets, sudden bursts of current undermine system stability, and processing under extreme temperature or volatile voltages can aggravate the situation. PE6000G-series devices combine robust thermal and power solutions to mitigate the circumstances that could lead to problems or even a system crash — ensuring maximum uptime. The optimized thermal design ensures reliable, resilient operation in temperatures ranging from -20°C to 60°C.
Perfect for autonomous driving
PE6000G series is also ideal for in-vehicle environments, with wide-range 8 to 48 V DC-in support, including built-in ignition power control, plus the ability to monitor the power — and a solid mechanical structure. In particular, the chassis design complies with the MIL-STD 810H military-grade standard, and it is engineered to withstand shocks and vibration.
In fact, PE6000G can withstand harsh vibrations, making it perfect for applications such as machine vision, AI-powered factory automation, intelligent video analytics (IVA), and more rugged conditions such as roadside units (RSUs), autonomous vehicles and more.
ASUS IoT also offers PE4000G as part of the same product family as PE6000G. This model offers the same outstanding CPU/GPU computing and is especially designed to support up to a 200 W GPU, including the NVIDIA® RTX A4500, for versatile and demanding AI computing.