ASUS IOT PRESENTS COMPLETE EMBEDDED PORTFOLIO TO ACCELERATE DIGITAL TRANSFORMATION AT EMBEDDED WORLD 2023
2023/03/13
KEY POINTS
Powerful edge AI computers: PE3000G, PE4000G and PE4000G deliver next-generation GPU power, designed to withstand extreme industrial environments
Tinker family extended: All-new Tinker Board 3 and Tinker V models, plus a series of open-frame panel PCs with Tinker Board embedded
Latest industrial motherboards: The power of the latest 13th Gen Intel processors, and rapid time-to-market integration
Embedded World exhibition: ASUS IoT showcase located in hall 2, #2-410, Nuremberg, Germany, from March 14-16, 2023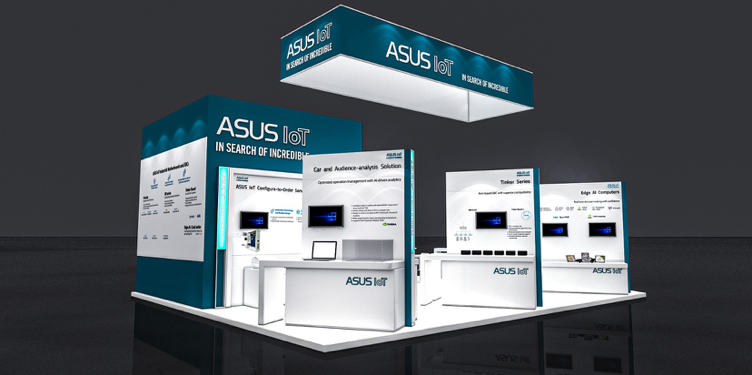 TAIPEI, Taiwan, March 13, 2023
ASUS IoT, the global AIoT solution provider, today announced that it is delighted to be attending the Embedded World 2023 from March 14-16 in Nuremburg, Germany. On show will be the comprehensive ASUS IoT lineup of edge AI computers, industrial motherboards, COM Express (COMe) modules, Tinker-series single-board computers (SBCs), Mini PCs, market-ready solutions and AI solutions. This impressive portfolio of embedded and IoT offerings delivers ASUS IoT's leading hardware and software computing capabilities and services across diverse vertical markets.
Powerful edge computers for AI-inference applications
Powered by 12th Gen Intel® Core™ processors, ASUS IoT is today unveiling a trio of next-generation edge-AI GPU computers.
PE3000 is a the true fanless edge computer that works seamlessly with NVIDIA® Ampere/Turing or Intel Arc™ A-series MXM GPU. Specifically, Intel Arc A350M, A370M, A550M and A730M MXM GPUs are supported by ASUS IoT.
PE4000G, a ruggedized edge computer, supports an up to 200 W TDP GPU and up to two PCI Express® (PCIe®) expansion cards.
PE6000G, the world's first industrial computer to support an up to 450 W TDP GPU, is a remarkably powerful monster — focused on high-throughput graphics processing via PCIe 5.0.
All three new machines in this series boast outstanding abilities to withstand extreme environments, including significant temperature variations, wide voltage requirements and even high-vibration situations — from busy factory floors to bumps on the road. With up to 64 GB of DDR5 4800 MHz memory, fanless designs and MIL-STD-810H compliance, they are flexible and resilient for demanding edge-AI applications, such as machine vision, intelligent video analytics and autonomous vehicles.
ASUS IoT also used its presence at Embedded World to announce the NVIDIA Jetson Orin™ NX and Orin™ Nano-based PE1100N AI edge-computing system. This delivers next-level AI performance, in a compact and fanless form that's ideal for AI at the edge. In particular, it features rich connectivity and benefits from a design that supports a wide spread of temperatures and input voltages. It also offers optional WiFi and Bluetooth, plus an expandable slot for 4G/5G modules, and is the ideal for industrial environments such as traffic and audience analysis.
Tinker family grows, primed for industrial automation
New members of the Tinker family have also been revealed by ASUS IoT, including Tinker Board 3 series and Tinker V. A new series of open-frame panel PCs designed for industrial automation applications also feature Tinker Board 3, as embedded products.
Featuring a quad-core Cortex-A55 processor with 64-bit Arm® architecture, Tinker Board 3 series provides single-board computing in compact size with industry-leading support for both Linux (Yocto and Debian) and Android operating systems. With up to seven years longevity assured, Tinker Board 3 series benefits from versatile interfaces for superior system expandability, including PoE, LVDS, COM and CAN bus, plus M.2 E and M.2 B slots to accommodate wireless or 4G/5G expansion modules.
ASUS IoT has also moved a step forward to embed Tinker Board 3 within its latest series of open-frame panel PCs to meet growing digital-transformation demands of smart industry, including HMI automation, self-service kiosks, signage and many IIoT applications. The all-new PP-101W-3568 and PP-156W-3568 models respectively boast 10.1- and 15.6-inch projective-capacitive touch panels with a widescreen 16:9 aspect ratio, and benefit from an open-frame bezel design for easy customization. The fanless design and low-power CPUs ensure better reliability and durability. With side brackets and VESA installation, ASUS IoT's new open-frame panel PCs offer support for diverse installation methods and applications.
Finally in this field, ASUS IoT has launched the first 64-bit RISC-V SBC, Tinker V, embracing open-source architecture to expand options for industrial IoT developer community. Featuring Linux OS support and extensive I/O ports, this compact Pico-ITX product provides flexibility for versatile industrial deployment.
Latest industrial motherboards for embedded applications
ASUS IoT has also built a comprehensive portfolio of industrial motherboards supporting the latest 13th Gen Intel processors and designed to meet the demands of diverse industries. Specifically, the IM series features ruggedized industrial motherboards, while EM offers the assurance of resilient industrial motherboards with extended lifecycles.
Based on these key system components, ASUS IoT Configure-to-Order Service (CToS) is presented to market. Driven by ASUS IoT dedicated and agile R&D team, and supported by our extensive pool of industry vendors, ASUS IoT is able to support customers with rapid time-to-market with production flexibility.
ASUS IoT also reveals the new Coral Dev Board Micro, a powerful microcontroller board packed with a built-in camera, microphone and Coral Edge TPU, for rapid prototyping and deploying low-power embedded systems with on-device machine-learning (ML) inferencing. The Coral Wireless Add-on and PoE Add-on boards snap to provide Wi-Fi, Bluetooth or Ethernet connectivity.
Innovative AI-powered software solutions for industrial applications
In addition to our strong hardware capability, ASUS IoT also provides a full range of integrated and AI-based software and hardware solutions to realize smart manufacturing, including AISVision, AISPHM and AISEHS.
AISVision is an intuitive toolkit that simplifies business for system integrators (SIs) and machine builders, empowering the creation of effective AI models for automated optical inspection (AOI). With just four steps required, AISVision reduces up to 80% of the effort typically required compared with traditional AOI methods.
AISPHM, or the AIS Prognostic and Health Management platform, combines the rules-based ISO 10816 standard with our proprietary AI technologies to increase the accuracy of the root-cause diagnostic engine.
Finally, AISEHS is an management-service platform for environment, heath and safety (EHS). This AI-powered SaaS is designed to improve standard operating procedures for worker safety and to minimize potential risks through AI. It also provides visualization-risk reports to EHS managers, helping to achieve greater production optimization and management.